Rio Bell 'should have been in reins' at Lynn Mart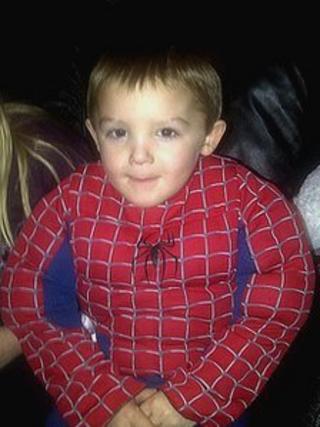 A three-year-old boy hit by a car during a Norfolk town's funfair should have been supervised more closely by his family, a coroner has said.
Rio Bell, from Lowestoft, Suffolk, died in hospital after he was struck near the annual King's Lynn Mart on 15 February.
Norfolk coroner William Armstrong said Rio should have been in reins, in a buggy or had his hand held.
He recorded a verdict of death by road traffic accident.
Rio had been at the fair with older brother, his mother Kelly Rawlinson and her partner Martin Daw.
Ms Rawlinson and Mr Daw told the inquest he was an "independent boy" who always got his wrist out of his reins,
He usually walked ahead with his brother and she thought this was "entirely safe".
But Rio ran into King Street, the hearing in King's Lynn was told.
Mr Daw told the inquest: "I tried to grab him. He ran past. I followed into the road to try and catch him. That's when it happened."
Thomas Dinneen, the driver of the Audi A4 which struck Rio, said he had been briefly distracted by a group of teenagers in the road.
"I was aware of a noise that wasn't normal," he said.
"I thought I'd hit the kerb. I got out and saw Rio on the road," he added.
The inquest also heard that as a result of Rio's death, future Marts would be reduced to one week instead of two and have more barriers.
Mr Armstrong said: "Under the circumstances he should have had reins, been in a buggy or had his hand held."
He added: "It pains me to say this."