Bolton theatre founder Robin Pemberton-Billing dies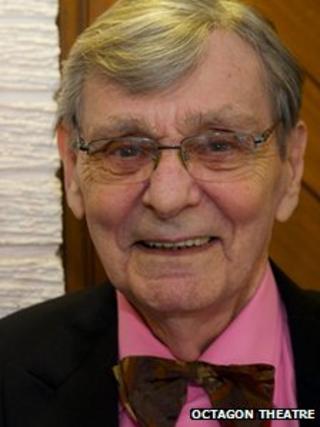 The founder of a Greater Manchester theatre "years ahead of its time" has died at the age of 83.
Robin Pemberton-Billing set up the Octagon Theatre in Bolton with a group of Loughborough students in 1967 and served as its first artistic director.
Current director David Thacker said: "His achievements are without precedent and without successor."
A theatre spokesman said he died peacefully at his home in Bolton on Sunday.
He leaves a wife, Maggie, and four sons.
'Remarkable design'
Mr Thacker said Mr Pemberton-Billing was "the driving force behind the Octagon's very existence" and praised his "flexible auditorium" design which allowed the theatre to be used in three different ways.
The design meant that the stage could function as a thrust stage, which extends into the auditorium, an open stage or a theatre in the round, with the audience surrounding the stage.
Mr Thacker said: "He had a clear vision for a theatre for the people of Bolton, and his ideas about how the Octagon should serve the community and work with young people still live on today.
"Most remarkable was his design - the Octagon's flexible and intimate auditorium was years ahead of its time.
"It still is one of the best theatre spaces in the country and I'm privileged to be able to direct in it."
'Fired the imagination'
Philip Butterworth, one of the students who helped Mr Pemberton-Billing found the theatre, said he had a "theatrical far-sightedness".
He said: "Such flexible theatre forms were unknown in the English professional theatre in 1967."
Mr Butterworth said his former tutor had a vision which "fired the imagination of all those with whom he came into contact".
He added: "Town councillors, the press, subsequent members of the Octagon Trust, teachers and the general public all fell under the spell of Robin's drive, imagination and commitment."
Mr Pemberton-Billing was the theatre's artistic director from its opening until 1972, working with a host of famous names, including Robert Powell, Matthew Kelly, Alison Steadman and Mike Harding.
Comedian Peter Kay worked in the theatre's box office, and film director Danny Boyle was an usher.