Al Amin Dhalla: Brighton stalking victim fears for future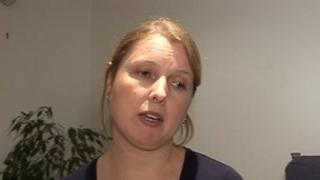 A doctor who is rebuilding her life after being stalked by her former boyfriend says she worries about the day he is released from prison.
Al Amin Dhalla is serving a minimum of six years after being convicted of a campaign of harassment against Alison Hewitt, from Sussex, and her family.
Dr Hewitt had to live in a safe house during the campaign in which Dhalla tried to burn down her mother's home.
She said: "I have to think very carefully about how I'm going to live."
Dhalla was jailed indefinitely in June at Lewes Crown Court after stalking Dr Hewitt following the break-up of their relationship.
The couple met in 2009, but Dr Hewitt ended their relationship the following year after Dhalla became threatening when challenged about his past during a holiday with her father and step-father.
At the height of the harassment, police airlifted Dr Hewitt's mother, Pamela, and stepfather, David Gray, from their holiday home on Lundy Island off the Devon coast amid fears for their safety.
Dhalla was arrested at the Princess Royal Hospital in Haywards Heath, dressed as a doctor and asking about Dr Hewitt.
Police found in his hired car a loaded cross bow, a large knife, a claw hammer, pliers and bolt cutters, as well as a doctor's outfit.
The court heard he also had a van specially adapted to include a cage in the rear, which police described as a vehicle that could be used to kidnap someone.
Dhalla was convicted of a string of offences, including arson at her parents' Buckinghamshire home, and was jailed indefinitely, with a minimum term of six years.
Dr Hewitt, who now lives in another part of the region, has now begun a new job and says she is trying to re-establish a social life and "have a little bit of fun".
But she admitted she was still haunted by her "surreal" experience at the hands of a man who is still never far from her thoughts.
'Murder plot'
"He does enter them [my thoughts] quite a lot. It isn't specifically on day-to-day life. It's more about worries about the future, particularly when he is released, about what will happen."
Even after Dhalla was jailed, Dr Hewitt learned from police of an alleged plot to have her, or members of her family, killed.
He was arrested in prison on suspicion of conspiracy to murder, but police took no further action because of insufficient evidence.
"That worries me a little bit," she said. "I have to think very carefully about how I'm going to live in the future and how I can make my life as safe as possible without letting it overtake my life."
Despite her ordeal, the doctor remains largely positive and stoical. "I do think if anybody had been hurt I would be in a very different state today. I feel in a way very lucky that nobody was hurt physically."
She welcomed government plans for new laws which will create actual offences of stalking, and she urged anybody who felt they might be a victim to seek help as early as possible to ensure there is evidence to convict, and to have the courage to see it all the way through to resolution.
"Your life isn't going to be worth living unless you do."