Dorset flooding: Firefighters free stranded drivers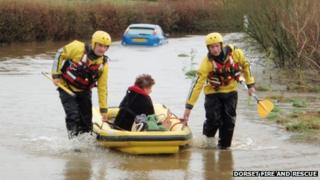 Several drivers who got stuck in flood water across Dorset after heavy rain have been rescued by firefighters.
No injuries have been reported after crews freed cars and vans stranded in areas including Sturminster Newton.
Fifteen flood warnings had been issued for the county, including on the River Char near Charmouth and Lower Frome, from Dorchester to East Stoke.
The Environment Agency had up to 50 flood warnings in place for south-west England.
Earlier a woman was rescued in an inflatable boat from a car stuck in about 3ft (90cm) of flood water at Boys Hill in Longburton.
A woman and three children were also assisted by firefighters after becoming trapped in a car on Netherton Lane, off the A37 at Netherton.
Crews were also called to a car stranded in about four inches (10cm) of flood water off the A37 at Muckleford, and a broken down van in about 2ft (60cm) of flood water, at Bagber, near Sturminster Newton.
Drivers have also been rescued at Thorncombe, near Beaminster, Whitechurch Canonicorum, near Bridport and Holnest in Sherborne.
Across England, there were more than 70 flood warnings in place.