Devon and Cornwall PCC Tony Hogg seeks 'open-minded' chief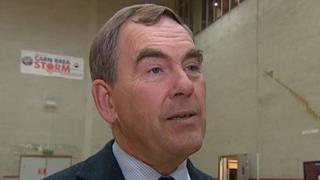 Devon and Cornwall's police and crime commissioner (PCC) has said he wants an "open-minded true professional" in the role of chief constable.
Tony Hogg, who was elected on Friday, said he will advertise for a new chief constable within the next few days.
Acting Chief Constable Shaun Sawyer was appointed when Chief Constable Stephen Otter left the force in March.
"Whoever takes up the role will be working with me to ensure that local people feel connected," Mr Hogg said.
"I want a true professional and I want someone who's open minded and ready to work with me."
'Challenges ahead'
He said the role of chief constable was "pivotal" in ensuring the strategic vision to tackle crime in Devon, Cornwall and the Isles of Scilly was carried out on a daily basis.
"Today is my first day of office and not everything can be decided overnight," he said.
"There are many challenges ahead, and in order to meet them we need solid foundations to be in place."
After being elected, Mr Hogg said he would "walk the beat" around Devon and Cornwall to talk to people.
"I believe that my role as commissioner and that of the chief constable has to be to provide strong leadership and work as a team," he continued.
"That relationship is key to serving people in this area and we will only achieve our aims by working closely together."