Anne the elephant circus abuse: Bobby Roberts guilty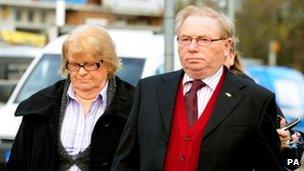 A circus owner has been found guilty of three counts of causing unnecessary suffering to a performing elephant.
Bobby Roberts, 69, was given a three-year conditional discharge for mistreating 58-year-old elephant Anne.
Roberts was also convicted of failing to prevent groom Nicolai Nitu, who is believed to have returned to Romania, from repeatedly beating the animal.
His wife Moira, 75, was found not guilty of the same charges at Northampton Crown Court.
The court had been shown secretly-filmed footage of the animal being struck with a pitchfork by a groom.
The video was recorded by welfare group Animal Defenders International (ADI) between 21 January and 15 February 2011.
It showed the Asian elephant being kicked and struck with a pitchfork several times by Nitu at the Bobby Roberts' Super Circus' winter quarters in Polebrook, Northamptonshire.
Roberts, from Oundle, Northamptonshire, told the court he would never have condoned the behaviour of Nitu.
He said: "I can't tell you what I would have done. The police would have been involved.
"Still now when I think about it, it goes through me, I just can't believe it."
Roberts also failed to ensure the elephant's needs were met by not giving her medication for her arthritis.
In the footage, the elderly animal could be seen chained by one foot and one hind leg in a barn.
The legs of the elephant could also be seen to buckle several times.
Roberts claimed he was unaware Anne had been constantly chained and the groom had not followed his instructions.
He admitted the elephant would be chained up at times but said his instructions were that she be let loose behind an electric fence in a cordoned-off area.
But the court rejected his claims and found him guilty of all charges.
District Judge David Chinery told Roberts he accepted Anne's treatment did not represent his normal level of care for animals under his control.
"You are a man who has not previously been convicted of any offence and it is to your credit that you have cared for and managed animals for the greater part of your 70 years without criticism from any quarter," he said.
He said Roberts' offences had been at the lower end of the scale, and he had not personally been cruel to the elephant.
The judge said he regarded the chaining of Anne as serious, but said the real cruelty had been inflicted by the groom.
He did not impose a fine or order Roberts to pay costs.
Explaining his sentence, he said Roberts had an exemplary record of animal husbandry, had suffered enough punishment since his offences came to light, and was unlikely to appear in court again.
"As a result of what has happened your business is effectively at an end. You have lost everything which you have built up over the last five decades. I am told that you have no funds at all," he said.
The judge said it would be "disproportionate" to ban Roberts from keeping animals.
Following the hearing, ADI, which covertly filmed the abuse over a three-week period, criticised the sentence.
Jan Creamer, chief executive, said: "Despite the considerable suffering caused to Anne the elephant, the sentencing meted out to Mr Roberts is derisory and provides no faith that the Animal Welfare Act can protect animals in circuses."
She said people should be held responsible for the day-to-day experiences of their animals.
"If they don't have the staff or they don't have the people to look after their animals properly, then they shouldn't be keeping them," she said.
Anne, who has been at Longleat Safari Park in Wiltshire since April 2011, was now receiving proper treatment for her arthritis and building muscle, she said.
"How well she is now in comparison shows you that she suffered over a long period of time and this is entirely the wrong message."
Following the verdict, Richard Crowley, deputy chief prosecutor at CPS East Midlands, said footage of Anne's treatment had upset many people across the country.
"Bobby Roberts had clear responsibilities for this elephant's welfare, which he wilfully neglected when he treated her appallingly," he said.
"Anne was kept chained up, beaten regularly and suffered significantly as a result."
He said not only had Roberts breached his professional obligations towards Anne, but his neglect and abuse was criminal.
"He gave instructions for Anne to be chained and took no action to prevent the beatings she had received, failing to provide any training or supervision for the staff member responsible for her," he said.
Related Internet Links
The BBC is not responsible for the content of external sites.