East Midlands' women workers lowest paid in UK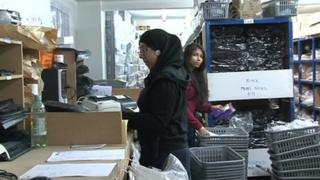 Pay rates for women in the East Midlands are the lowest in the UK, official figures show.
The Office of National Statistics (ONS) report showed an average full-time weekly wage of £402.50, compared with UK average of £448.60.
Mandip Rai, of the Leicestershire Enterprise Partnership, said women tended to work in low-paid sectors.
But shopping centre manager Jo-Anna Tallack said hard work rather than gender was the key to success.
Mr Rai said: "These figures for the East Midlands aren't surprising.
"Clearly the industrial structure of our economy has a bearing on wage levels more generally.
"In Leicestershire, a large proportion of women are employed in what can be described as low-value sectors - food and drink and textiles."
But Ms Tallack, general manager of the Highcross Shopping Centre in Leicester, said in her experience women could achieve the same as men.
She said: " I was surprised by the figures - there are a lot of very successful women in the East Midlands, and in Leicester itself.
She added that "self-promotion" and "working really hard" were key to being successful in business, not being male or female.