Nadine Dorries: 'I'd do I'm A Celebrity again tomorrow'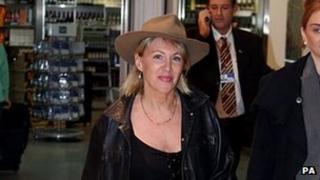 It was getting on for midnight and she had to be up again in four hours time but the MP for Mid Bedfordshire was buzzing.
"Of course it's been worth it. I'd do it again tomorrow if I could,", Nadine Dorries told us just hours after being evicted from the Australian jungle.
Despite the anger of her constituents and her fellow MPs and her suspension from the Conservative Party, she believes appearing on TV has really worked.
"I've gone through all my emails this evening and nearly all of them are supportive. My Twitter feed has gone mad," she said.
Even though very little of her political views appear to have been transmitted, she still seems happy: "I've been able to talk about the 20-week abortion limit and euthanasia. People back home will now know more about the issues and know me and what I stand for."
As for losing the Conservative whip, she is unconcerned: "The chief whip isn't going to suspend every MP who goes away on a jolly. MPs are going on jollies all the time. I haven't had a break for years."
First eviction
Although she was the first person to be evicted, Nadine Dorries will not be coming home straight away. She has to remain in Australia as part of her contract with ITV. So she's set up an office down under to handle constituency work.
Back in the UK there is still a lot of anger at her sudden disappearance. We reported two weeks ago what many MPs felt and those views don't appear to have changed. Colleagues in neighbouring constituencies have taken on some of her casework - most appear to be doing it willingly.
A local Liberal Democrat, Jonathan Paxton, has launched a petition for her to be recalled and stand again for election. At the time of writing 650 people have signed it.
"Appearing on a programme like that is not political debate," he says. "We elected her to speak for us in the House of Commons and to act for local constituents."
However, the mood of her long-suffering constituency association may have softened a little.
Deputy Chairman Budge Wells says he is not furious with Ms Dorries and insists there is no talk of de-selection: "She is the MP for Mid Bedfordshire and will stay that way until the next election.
"I am not furious with her but I am concerned about what her constituents may think of her."
When she comes back Ms Dorries will have to mend some bridges: with the association, her colleagues and the chief whip.
She told us she was confident: "This furore will soon blow over, everyone will have have forgotten about it by Christmas."
Time will tell.