MP lobbies to speed up Ding murders suspect extradition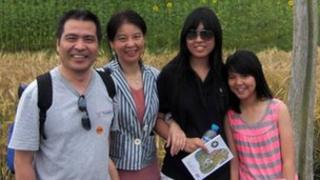 An MP has intervened in the case of a Northamptonshire murder suspect waiting to be extradited from Morocco.
Jifeng Ding, his wife Helen Chui and their two daughters, Alice, 12, and Xing, 18, were found stabbed to death at their home in Wootton last year.
Police, who had been looking for Anxiang Du in connection with the case, arrested him in Tangier in July.
Michael Ellis, Northampton North MP, has written to the Foreign Office in a bid to speed up Mr Du's extradition.
Mr Ellis said he had written to Alistair Burt, minister for the Middle East, North Africa and South Asia, because it had been "several months" since Mr Du's arrest.
'Justice denied'
"I have asked him to speed up the process," said Mr Ellis.
"The problem is that Morocco is one of those countries with which the United Kingdom does not have an extradition treaty.
"Most of those countries that we don't have an arrangement with we have to negotiate each individual case separately."
Mr Ellis said he had spoken to both the Home Office and the Foreign Office about the matter.
"This is not about guilt or innocence, this is about effecting an extradition so that matters can be brought to a court of law in this country."
He said he believed "justice delayed is justice denied".
"I want to keep the Foreign Office alert to this case," he added.
He also praised Northamptonshire Police for their "hard work" on the case.
He said that Alistair Burt told him he would "report on the matter".
The Home Office said in a statement: "The extradition process, including the length of time it is likely to take, is a matter for the Moroccan authorities."
All four members of the Ding family were found stabbed to death at their home in Wootton on 1 May last year.
Mr Ding worked as a lecturer at Manchester Metropolitan University and his wife worked locally at a school in Northampton.
Police believe they were killed on 29 April, the day of the royal wedding of the Duke and Duchess of Cambridge.
Anxiang Du, from Coventry, worked at a herbal medicine shop in Birmingham,