Midlands no Bolt-hole as Usain demands tax changes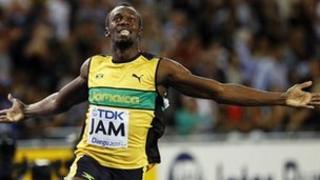 "I love being here, I have so many Jamaican fans here and it's wonderful."
Arguably the biggest crowd-pleaser in world sport, Usain Bolt had good reason to thank Birmingham for being the host city for the Jamaican team's training camp during the build-up to the London Olympics.
He went on to become the first Olympic champion to retain both the 100m and 200m titles. He also won Gold in the 4x100m relay.
But athletics followers had better content themselves with their memories of a unique summer of sport because Britain's tax laws mean he will not be racing here again in the foreseeable future.
Some tax specialists say the UK's tax system which includes a proportion of their sponsorship deals, appearance fees and bonuses earned overseas is the most stringent in the world. They say we and the US are the only countries which tax overseas stars in this way.
But HM Revenue and Customs tells us: "The UK taxes endorsement income in a similar way to the US and New Zealand and our approach is in line with OECD guidance. HMRC collects more tax from sports professionals than some other countries because:
a. The UK tends to have stronger avoidance legislation than some other countries and we can often track income back into tax havens, and;
b. UK rates of tax, including the additional rate, may be higher than in some countries. But the UK allows a generous amount of tax-deductible expenses which can significantly reduce the amount of tax due.
But Usain Bolt takes such a dim view of British taxation that two years ago he pulled out of the Aviva London Grand Prix and competed in Paris instead. He was paid a fee of $250,000. He agreed to take part in the London Olympics only after HM Revenue and Customs announced a tax amnesty for competitors.
And the argument is not confined to athletics.
There are increasing fears that major golf venues like the Belfry near Sutton Coldfield may miss out on lucrative tournaments as the game's highest earners stay away. And in Tennis, Birmingham's Edgbaston Priory Club is currently undergoing a £12m redevelopment.
This should help to help raise the international profile of the Aegon Classic tournament, held there during the run-up to Wimbledon for leading players on the women's tour. In the past it has hosted the likes of Billie Jean King, Martina Navratilova and Maria Sharapova. This year there were no such star attractions.
"Players are increasingly reluctant to play in the UK, which reduces broadcaster and sponsor interest, and therefore the impact of that event on the sport and the local and national economy," says The Lawn Tennis Association.
One reason, perhaps why George Osborne did at least allow a modest relaxation in his budget last March: 'training days' will now be included in the calculations so that the proportion of global endorsements caught by the UK's tax net will be reduced.
So should he now go further?
This will be one of main talking points on this week's Sunday Politics Midlands when I will be joined by Katharine Merry, Conservative MP for Wyre Forest, Mark Garnier, and the Labour MP for Wolverhampton North East, Emma Reynolds.
And I hope you will join me too, from 11.00 GMT on BBC One on Sunday, 2 December.