Conservative MP Stewart Jackson: I'm at one with UKIP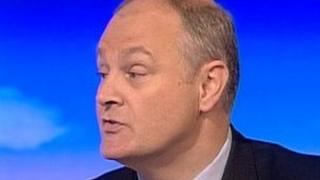 A guest speaker at a branch meeting of the UK Independence Party has heaped praise on the party's policies; what raised eyebrows is that the compliments came courtesy of Peterborough's Conservative MP Stewart Jackson.
The MP, who has warned the Tories that they face a threat from UKIP, told the meeting in Cambridgeshire he had no plans to defect but that he agreed with everything they stood for.
"I'm at one with UKIP," he told them and admitted that when he saw some of their election material earlier this year he "actually agreed with everything on the leaflet".
He said he thought his party leader had been disrespectful and used "pathetic language" when he called UKIP a party of closet racists in 2008.
However, he maintained that he had no plans to join UKIP: "I believe I can do more within the Conservative Party to advance the cause of Euro-scepticism."
Within days, Mr Jackson appears on the BBC's World at One supporting calls from the Conservative Vice-Chairman, Michael Fabricant, for a pact with UKIP.
"UKIP has the capacity to do substantial damage to the Conservative vote," Mr Jackson said. "I think it's incumbent on David Cameron to show real leadership and promise an in/out referendum. This would unite the right."
The threat from UKIP
Mr Jackson has every reason to be concerned about UKIP. At the last general election he had a majority of 4,800, while UKIP polled 3,000 votes. If the polls remain the way they are and Liberal Democrat supporters keep defecting to Labour, combined with a growing UKIP vote by disaffected Tories, it could make all the difference to whether he keeps his seat or loses it to Labour.
There is a real debate going on about UKIP among Conservative Party members in the eastern region. The fear is not that UKIP will win seats, but that it will take votes away from the Tories and in doing so, cost them MPs.
In Waveney, Peter Aldous has a majority of 769. Last time round UKIP polled 2,600. In Norwich North, where Chloe Smith (majority almost 4,000) could face a very tough fight next time round - UKIP got 1,800 votes in 2010.
In Great Yarmouth, Brandon Lewis has a majority of just over 4,000, UKIP - which is campaigning hard there and already has a local councillor - polled 2,000 votes at the last election. That's to name but a few.
One of our MPs privately admitted to us last week that they were expecting to lose their seat at the next election.
"I have to be realistic. The Lib Dem vote is collapsing and UKIP support is growing, how can I expect to hold on?"
Growth in support
UKIP won two seats in our region during the last European elections and has a handful of local councillors in Cambridgeshire and Norfolk. At Corby they polled their best ever by-election result.
"The Corby by-election result demonstrates even more starkly the real support that UKIP can harness," said Michael Fabricant in his report on the growing strength of UKIP.
"In the 2010 general election, UKIP did not stand in the seat, yet gained 14.3% of the vote just two years on. It was clear that the coalition took a mid-term kicking, however the UKIP vote surged beyond that which was being polled nationally."
Latest polling evidence suggests that UKIP is polling around 6% in opinion polls - twice what they polled at the last general election.
"The people who are switching to UKIP are disproportionally Conservative voters," says Professor John Curtis, of the University of Strathclyde. "About 7% of the Conservative vote is now in the UKIP camp."
The official Conservative line is that there will be no deal with UKIP and party leader Nigel Farage has spoken in similar terms.
But for many of our Conservative MPs this is growing threat. Calls for some kind of deal with UKIP before 2015 are unlikely to disappear.