Diamond Jubilee: Avenue of trees near Henley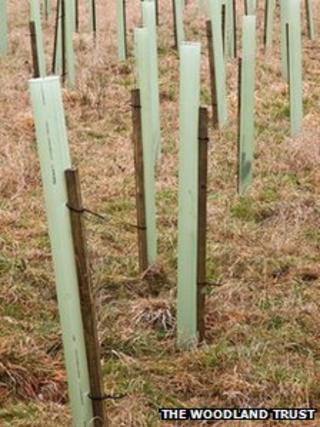 An avenue of 60 trees is being created in Oxfordshire and Buckinghamshire to mark the Queen's Diamond Jubilee.
Aida Hersham, owner of Fawley Court mansion, approached the Woodland Trust to develop the tree avenue along two miles (3.2km) of the A4155 near Henley.
The first of the trees, a 4.5m high English oak, was planted at a ceremony attended by the Lord Lieutenant of Buckinghamshire.
It is thought to be the only avenue of its kind created for the jubilee.
Ms Hersham said: "It will be a long-lasting way to celebrate Her Majesty's Diamond Jubilee and will be enjoyed by all the future generations."
The project also includes the planting of a small jubilee copse within the parkland at Fawley Court by children from six local schools.
Nine landowners have taken part in the creation of the Jubilee Avenue, which is part of the trust's efforts to plant six million trees to celebrate the Queen's sixty-year reign.