Merseyside pair jailed over Chinese cash and gold thefts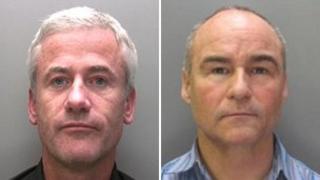 A Wirral man and his uncle who stole cash and gold from Chinese families in Lincolnshire, North Yorkshire and Suffolk, have been jailed.
Paul White, 41, of Queen's Road, Hoylake, was sentenced to seven years and four months for burglary offences at Lincoln Crown Court on Wednesday.
His uncle Peter White, 54, who was in custody at the time his sentencing in May, was jailed for six years.
The court heard the pair cased premises before stealing cash and jewellery.
Paul and Peter White carefully selected Chinese business owners and families, and carried out meticulous searches of their properties before stealing hundreds of thousands of pounds of cash and gold, often intended as marriage dowries.
'Racially-targeted' crimes
The pair would masquerade as businessmen, wearing designer suits and stayed in expensive hotels, Lincolnshire Police said.
Officers from the Lincolnshire force began an investigation after a spate of burglaries in Lincoln in October 2010.
Information was circulated to the Chinese community that they were being targeted and descriptions of Paul and Peter White given out.
When a man fitting the description knocked on the door of a Chinese family in Lincoln, the homeowner was suspicious, took car registration details and called the police.
Officers then linked the Lincoln burglaries to similar crimes in Essex, Suffolk, North Yorkshire and Wiltshire.
Sentencing, Judge Paul White said the pair's "racially-targeted crimes had cast a great shadow of fear over the Chinese community".
A Proceeds of Crime Act hearing is listed for Paul White in March 2013.
Peter White has already had his £120,000 house confiscated, as well as £200,000 of other assets.
Paul White admitted charges of theft, of dishonestly making a false representation, conspiracy to commit burglary and burglary.
Peter White pleaded guilty to conspiracy to commit burglary.