West Midlands Olympic events attracts almost 3m visitors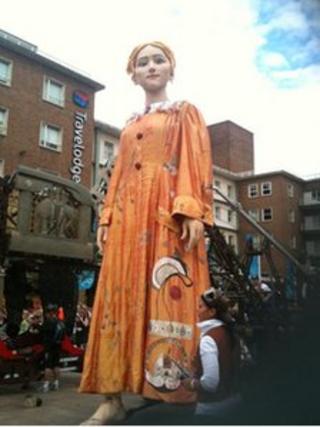 Events in the West Midlands connected with the London 2012 Olympics attracted 2.9m people, according to Arts Council England.
A report by the organisation said they also brought about £32.8m to the West Midlands economy.
The 11,450 events included the Godiva Awakes journey from Coventry to London and and an opera with helicopters.
The report also said 47% of people at the World Shakespeare Festival had never been to an RSC show before.
Arts Council England said including those at online and broadcast events, the 2.9m figure rose to 8.1m.
It also estimates that the programme drove 165,000 specific visits to the West Midlands from outside the region.
Godiva Awakes was also one of the West Midlands Cultural Olympiad events that ventured outside the region.
Shakespeare and cyclists
The 6m-high puppet of Lady Godiva made its way from Coventry to London powered by 100 cyclists.
The launch of the journey was one of the first events for the newly re-landscaped Broadgate in Coventry; just one of several improvements to the city ahead of the London 2012 Olympics.
The Cultural Olympiad, a celebration of the modern Olympic and Paralympic movements, also included torch relay evening celebrations and Dancing for the Games events.
Coventry's Ricoh Arena, renamed the City of Coventry Stadium for the duration of the Olympics to please the sponsors of the Games, hosted Olympic football games, attracting tens of thousands of people to the city.
About 15,000 people attended the The Voyage in Victoria Square in Birmingham, despite its first night being cancelled due to rain.
It featured a 50ft (15m) replica of half a ship and about 140 dancers and acrobats on wires.
Other events in the West Midlands included the first performance of the opera Mittwoch aus Licht by Karlheinz Stockhausent, featuring string musicians in helicopters, and the large-scale digital artwork, called Core, at the Ironbridge Gorge, Shropshire.
Arts Council England added that it could "tentatively estimate" that the events in the West Midlands had contributed to more than 350,000 people participating more often in culture.