PC 'pinned down' in Kingsbury butcher's shop stabbing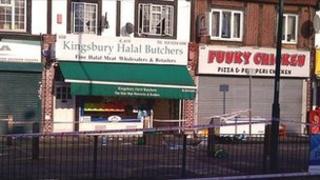 A police officer thought a knifeman was trying to kill him when he was pinned to the floor of a butcher's shop and stabbed, the Old Bailey has heard.
PC Thomas Harding told jurors that while being held down he used his baton to hit Christopher Haughton three times on the head, but it had no effect.
He was one of several officers injured in an attack in a butcher's shop in Kingsbury, north London, last year.
Mr Haughton, of Wembley, north London, denies four attempted murder charges.
The 33-year-old also faces six assault charges.
'Fast blows'
PC Harding, who is in his 20s and had been a policeman for three years, was among officers called to deal with a disturbance in Kenton Road in November last year.
He told the court he was one of the first to reach Mr Haughton who was struggling with a member of staff who was trying to force him against a corner.
While trying to subdue him, PC Harding said he was pushed to the floor and ended up with Mr Haughton on top of him, holding him down.
He said: "My shield had fallen on my chest. I had my baton in my right hand. He had his right hand up and was hitting down towards me, very quick, fast blows.
"At this point I realised he had a knife in his hand.
"My initial thought was that he was trying to kill me. I made three baton strikes to the head. It had no effect.
"He did not say anything while he was doing it, but I knew he was trying to cause me pain. I shouted to my colleges to get him off me."
The knife then pierced the shield and plunged 8in (20cm) into PC Harding's abdomen, perforating his bowel.
The officer had two operations, an HIV test, which proved negative, and months of treatment, the court heard.
Jurors have heard Mr Haughton was subsequently diagnosed with paranoid schizophrenia.
The trial continues.