Kingsbury butcher's shop attack accused 'feared for life'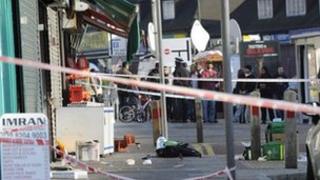 A man accused of attacking police officers in a butcher's shop in north London thought they were trying to kill him, the Old Bailey has heard.
Christopher Haughton told the court the police wanted him dead and that one officer threatened to rape him.
Recalling the incident in Kingsbury last November, he said: "I was surrounded. I didn't know what to do."
Mr Haughton, 33, of Wembley, north London, denies charges of attempted murder and assault.
His lawyer Bernard Richmond told the jury that Mr Haughton's thought processes were "not normal" as he was diagnosed with paranoid schizophrenia after the incident.
Describing the incident, Mr Haughton said: "All the officers were coming at me.
"I was surrounded. I didn't know what to do. It was like I was in a trance
"I remember using the knife, but I can't remember on what. I just remember slicing with the knife," he added.
'Spirits coming'
When asked what he thought would have happened had he not used the knife, he said: "I think I would have died or something, I don't know.
"Because they were trying to kill me."
Mr Haughton said he was then put in the back of a police van, and told the court: "They were just trying to get me. One of them said he was going to rape me."
He then demonstrated a howl he heard the night before the incident, and recalled "spirits" coming.
He had started hearing voices in January or February last year, and in October police were called to his address by a neighbour and a violent struggle broke out.
He became very scared of the police after this, the jury heard.
He spent the night before the attack at his brother's house where he had been chanting and reading the Bible and heard howls.
Concerned about Mr Houghton's behaviour his brother called an ambulance early next morning, but the defendant took a taxi and got off at Kingsbury.
Officers' injuries 'different'
He remembers two officers approaching him who tried to calm him down. He added: "I was just revving, just tormented."
He claimed he was beaten with a police baton, after which he hurled objects at officers before running into the butcher's shop and picking up a knife.
Telling jurors that he had been the victim of a set-up, he said the "police have got the power to do anything".
Previously the trial heard that PC Thomas Harding, one of the injured officers, was stabbed in the abdomen his colleagues tried to arrest Mr Haughton.
Mr Haughton claimed the officers' injuries in the photographs shown to the court were different from the injuries in photographs he had seen previously.
He is charged with four counts of attempted murder, two counts of attempted grievous bodily harm, affray and two assaults.
The trial continues.