Two PCCs attend national summit in Birmingham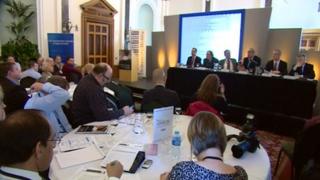 Only two of the 41 new Police and Crime Commissioners (PCCs) in England and Wales have attended the first national summit for the role.
The West Midlands' Bob Jones and West Yorkshire's Mark Burns-Williamson, both Labour, were among about 100 people at the Birmingham Council House event.
Delegates included security industry and union representatives.
Organisers Connect Communications said the event was funded by delegates and sponsorship and not taxpayers.
'Very positive response'
Mr Jones questioned "coordination and planning" as the conference was held one day after Home Secretary Theresa May met PCCs, which meant "taking two days out in the very early days of one's office".
He said: "Our main job is to look after the people in our local area.
"So in fact going out of our local area is important, but frankly so is making sure we keep the organisation running on the ground."
Steve Williams, of the Police Federation, said he hoped the turnout among PCCs would be higher in future.
He added: "[The turnout] has surprised me, but that said we've organised an event in February for the PCCs... and we've had a very positive response about the number of people who are going to be attending."
The initiative on Tuesday included the two PCCs taking questions from delegates and a presentation on the PCC elections from market research agency ComRes.
Connect Communications, a PR agency which organises events, said members of the "police and criminal justice sector" went to the conference.
It said all PCCs were invited to attend Tuesday's gathering and were contacted "both as candidates and again after their election as PCCs".
A spokesman added: "We understand that this is a busy time for them and that they will each have local priorities, and a number of the PCCs sent representatives from their offices to attend today.
"The day was a chance for representatives from across the sector to come together to learn more about the role."
He added it was "a successful event with some excellent debate around the role of PCCs".