Snow shuts Essex schools and affects Stansted flights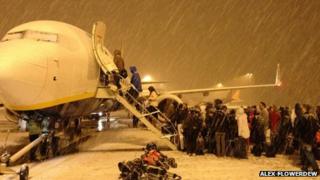 About 50 schools have been closed, flights from Stansted Airport cancelled and at least 10 people hurt in crashes following snowfall across Essex.
Stansted Airport's runway was closed for two hours while it was cleared of snow and reopened at 08:30 GMT.
But passengers spoke of their frustration after the closure forced the cancellation of their flights.
Long queues formed through the airport terminal as travellers hoped to find alternative flights.
Passengers have been advised to check with their airlines before travelling and to allow extra time to get to the airport.
Police warned of treacherous driving conditions and earlier said there had been 45 crashes reported since 05:30.
Luton Airport's runway was also shut for a time earlier, but a spokesman said it had reopened at 08:00.
The Met Office has warned of further wintry showers across Essex.
People were injured in 10 of the crashes across the county on Wednesday morning, police said.
Gritters were sent out to treat roads.
Among the frustrated passengers at Stansted Airport were Steven Ingram, 56, and Stephen Allen, 49, both from Watford, who were due to fly to Spain to watch Barcelona's match against Benfica on Wednesday evening.
'Queuing for hours'
Mr Ingram, a Tottenham Hotspur fan, said the pair had left home at 03:00 for an 06:35 flight.
"We were on board and ready to go and then were told we'd have to get off again," he said.
"The crazy thing was, we had to come back through passport control even though we hadn't gone anywhere.
"We've been queuing for several hours and we're still hoping we will get to Barcelona for the match tonight.
"With the travel to the airport, £65 match tickets and all the other costs involved, this could set us back quite a lot of money."
Mr Allen, who supports Leeds United, said: "The most frustrating thing is nobody is telling us what's going on."
An airport spokesman said there had been 2in (5cm) of snow between 05:30 and 06:20, but the forecast had predicted just under an inch of sleet.
Mark Davison, head of communications for Stansted, said 23 outgoing and 20 incoming flights had been cancelled.
Most of these were services run by Ryanair, which operates the majority of flights from the airport.
"We had early snow followed by falling temperatures and then more snow, which settled on ice, compounding the problem," said Mr Davison.
"It was certainly worse than had been forecast. We had the runway open again within two hours which, under the circumstances, we are satisfied with.
"Obviously nobody likes to be delayed and we have sympathy for those who have been affected, but we are doing everything we can to help them."