John Constable study painting fails to sell at auction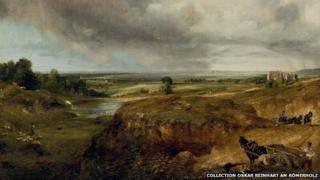 A John Constable painting, which experts say revealed how he worked with his studio assistant, has failed to sell at auction.
The study of figures and wagons was traced and used in larger paintings of Branch Hill Pond, Hampstead, in 1825.
Bonhams auctioneers expected bids of £60,000 to £80,000, but it failed to reach the private owner's reserve price in the London sale.
The owner will decide whether to put it back on the market.
The study is 10 inches (25cm) wide, while the figures are the same size in the Branch Hill Pond paintings, which are 30 inches (75cm) wide.
Bonhams' experts believe the study and its larger work shed light on how Constable worked with his studio assistant John Dunthorne Jr.
He was the son of one of his friends, John Dunthorne Sr, who Constable grew up with in the Dedham Vale on the Essex/Suffolk border.
Several versions of the larger Branch Hill Pond work exist, including one which is part of the Collection Oskar Reinhart am Römerholz at the Kunstmuseum Winterthur in Switzerland.