Northern League publishes swearing league table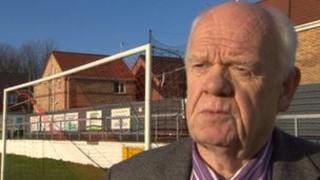 One of the world's oldest football leagues has published a swearing table as part of its campaign to reduce foul language.
The Northern League sent secret assessors to clubs and ranked them on four categories of ill-discipline.
Chairman Mike Amos said the issue needed addressing "for the good of the game".
West Auckland finished bottom of the pile but president John Elliot said it was a "brilliant scheme".
'Mindless morons'
"There's no upside to offensive language, no positives at all unless your aim is to look like a mindless moron," Mr Elliot said.
The league - formed in 1889, the year after the Football League - is split into two divisions.
There are now 46 clubs from Northumberland, Tyneside, Teesside, County Durham, Cumbria and North Yorkshire competing in the league.
A team of 17 assessors visited grounds and gave them a mark for language used on the pitch, language used in the technical area, general technical area discipline and spectator behaviour.
Mr Amos said the assessors had been "invaluable" as the league fights to improve its image.
Table toppers
He said: "We are expecting people to pay to hear folks swearing. Well they won't and you can't blame them.
"We especially want to bring in families and young ones and they won't come to hear people swear.
"We're trying to address that for the good of the game, the good of the league and the good of all concerned."
Alnwick Town - currently bottom of the second division - lead the way for good behaviour in the league.