China-based web dress company 'dupes buyers'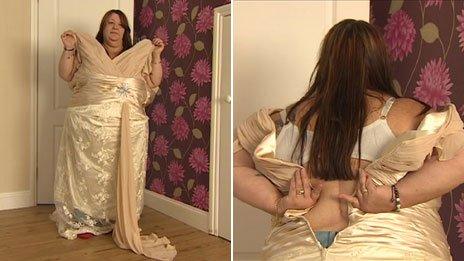 Buying a dress for a special day can be expensive, but a number of online websites now promise the perfect dress for every occasion - and for a reasonable price.
But as many customers have found out, one online company is not delivering what it promises, if it delivers at all.
And customers who are unhappy with their goods are only left with a bogus returns address in Portsmouth, and little chance of getting their money back.
Mandy Halstead, from Bracknell in Berkshire, wanted a dress for her son's wedding. She went online shopping and chose a website owned by Edresses Global, which sells dresses made in China.
They could do large sizes, and it all looked promising. She chose a dress costing £90.
Ms Halstead said: "I thought it was a trustworthy company because they've got offices in England.
"The dress arrived, I tried it on and it was too small, eight to ten inches too small across the back. "[It was] too long, way too long. I had to be about 13ft tall to be wearing it.
"It just looks very tacky, cheaply made. It's heartbreaking. I had to buy another dress for my son's wedding."
Another customer, Anj Page, from Northampton, ordered a dress for her daughter for her school prom in the summer.
She said: "We waited 60 days for it to be delivered and it just never turned up. I was constantly told they were busy and needed a little bit more time.
"These dresses aren't just summer dresses. They are ballgowns and wedding dresses, all for a special event that people have spent a long time planning."
Ian Conduit, who runs a dress business in Southampton, said people often bought dresses from him because the one they bought online was not up to scratch.
He said: "They tend to fall into three categories. You've got a dress that's totally unsuitable; a dress that's ok but doesn't fit properly or is the wrong colour or the zip's broken; and then you've got a large proportion of dresses that don't turn up at all."
Mr Conduit also buys dresses from China and regularly visits the country.
He said there were many reputable factories, but he had also seen the murky side of its online dressmaking industry.
"They literally will take a picture from a website like ours, or any other reputable manufacturer of a prom dress or a wedding gown, and they will put it on their website as a product," he said.
"They will advertise a product that they can produce. They've got no patterns, they've got no knowledge of the dress itself.
"One particular place that we visited was attached to a chicken farm. When we were there there was a lady from Russia who'd placed an order and they just printed the picture off and went off to try and copy that dress from the picture."
Ms Page eventually became so annoyed with Edresses that she set up a support group on Facebook, and in just six months she picked up 500 members.
The company has several websites, which appear to be in the UK, but all trails lead to China.
Ms Halstead spent months trying to get her money back but every address or phone number she and other customers were given turned out to be bogus, as were the two addresses on the website.
The returns address used by the firm leads to a Portsmouth industrial estate, but the company there distributes electrical goods and has nothing to do with Edresses.
Portsmouth trading standards officer Peter Emmet visited the firm.
He said: "We had a look a the goods that had been returned and it was quite clear that they were being sent back from dissatisfied consumers.
"This is the first time in Portsmouth that we've had a situation like this with an address being essentially hijacked in this way.
"If the company is based inside the UK there are very strong laws that will apply to what we call distance selling.
"But of course, that will only apply to a UK-based company. That's the danger when you have unscrupulous traders who are using the address as we've had in this case."
The final breakthrough for Ms Page was when a person calling themselves Yolanda Yoy joined her Facebook group.
Ms Page discovered that Yolanda Yoy was connected to Edresses itself, and when challenged said: "We're not a fraud company, we're trying to satisfy customers' requests."
Since then more than 20 people from Ms Page's group, including Ms Page herself, have been refunded nearly £2,000.
Ms Halstead eventually got her money back from her bank.
The BBC attempted to contact Edresses and Yolanda Yoy directly, but has not had a response.
Watch more on this story on Inside Out, BBC One in the South on Monday 19:30 GMT and on BBC iPlayer.
Related Internet Links
The BBC is not responsible for the content of external sites.