Cooker defect leads to eight deaths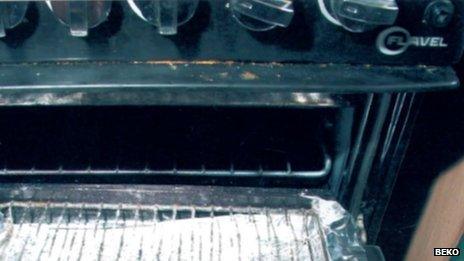 An inquest in Cornwall has revealed two men killed by carbon monoxide poisoning from a faulty cooker were the seventh and eight victims of a "known" manufacturing defect.
Richard Smith, 30, and Kevin Branton, 34, from Saltash, died at their property in Moorlands Lane, Saltash, in November 2010 when their Flavel cooker's grill produced high levels of carbon monoxide.
The cooker's manufacturer Beko said in a statement that it began a product recall in November 2008 when it became aware of a safety risk if the grill was turned on while the door was closed.
It said it had attempted to contact more than 21,000 customers to warn them of the fault, but 6,998 affected units remain untraced in the UK.
Christine Heemskerk, Trading Standards Institute officer for product safety, said: "They've done their best, it was some time ago now.
"With recalls 20% is considered a quite good rate - this is about 60% which to be honest is pretty good."
Ms Heemskerk added in recent years social media had made it easier for firms to get a message out about a product recall while loyalty cards meant more companies held their customers' contact details.
According to Dr Gordon Hayward, consumer safety expert, the number of recalls has risen in the past 15 years with 2007 a "peak year".
He said: "It's generally gone up over the years as there are powers authorities have now to order a recall, there's a legal duty for companies to do more and the law has been extended across Europe, so if a product is recalled in one country it is recalled across Europe."
Dr Hayward said despite trading standards officers having the power to make companies order a product recall, firms generally did a recall themselves before it got to the stage where it became mandatory.
"The companies usually prefer to voluntarily run the recall - it costs more if trading standards does it," he said.
He explained there was no standard way for a model to be recalled as it depended on what kind of product had been found faulty.
"The classic way is to put a notice in a leading national newspaper but there are many other ways of doing it which are often better," he said.
"Sometimes it means the public doesn't even know about it, for example with motor vehicles the DVLA has contact details for everyone who has a car.
"With own-brand products, supermarkets and other large chain stores can put a notice up which is reasonably effective."
Time also played a factor, Dr Hayward said: "Recalls for food don't go on for more than a month because they will be used or binned by then.
"Household white goods have a very long shelf life; with a cooker you could be talking 20-30 years so its quite common for a company to re-announce a recall a couple of times over two, three or even five years."
Dr Hayward said in cases involving fatalities companies tended to offer compensation to avoid legal costs "racking up".
According to Recalled Products, a website which uses data pulled from the European Commission's RAPEX web pages to give details of product recalls issued by manufacturers across the EU, there are currently 6,477 recalls in its database.
RAPEX is the EU rapid alert system that allows different countries to quickly share information about products which pose a serious risk to the health and safety of consumers. The system does not cover food, pharmaceutical and medical devices, which are covered by other alert methods.
The highest number of alerts at about 29% (1,894) is for clothing, textiles and fashion items while the second highest, at nearly 23% (1,465), is for toys.
In recent years there have been a number of high-profile product recalls in the UK.
In 2007 toy firm Mattel recalled 55,000 Chinese-made toys after lead contamination fears. The recall affected 38,000 toys in the US, 12,000 toys in the UK and the Irish Republic and 5,500 toys in Canada.
Dr Hayward said another famous faulty product issue was that of the "toxic sofas" - a compensation case for customers who received chemical burns from their leather sofas. It is believed to be the largest group consumer action in English legal history.
Finally, Dr Hayward highlighted the case of UK pushchair manufacturer Maclaren which recalled a million buggies in the US following reports that children's fingers had been lacerated.
The story led to more than 40 UK parents suggesting their children had also lost fingertips in the buggy's hinge.
The company issued protective hinge covers and agreed to pay compensation for children injured by the buggies.
With 25 recalled products listed on the Trading Standards Institute's website since 23 October, it seems likely product recalls will continue to make the news.
Related Internet Links
The BBC is not responsible for the content of external sites.