Panto screened for North East hospital sick children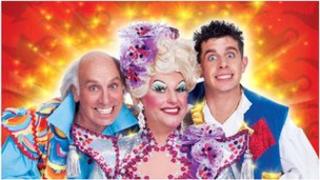 Thousands of sick children will be able to enjoy a pantomime from their hospital beds when it is screened in wards in the north-east of England.
In a project which has taken two years to plan, the Newcastle Theatre Royal show Aladdin will be shown for free on 6,700 hospital bed TV screens.
NHS North East, Newcastle Theatre Royal and hospital broadcast network Hospedia teamed up to set up the screening.
Cast members have also visited some children in hospital.
Theatre Royal trustee Howard Tait, who came up with the idea, said it had involved a great deal of planning.
He said: "We are often able to bring a small number of more mobile kids to the show, and seeing the children's faces light up just made me wonder how we could extend this magic to many more children unable to leave their beds."
There will be three screenings of Aladdin in hospitals on 15 December.
Julie Marsh, from NHS North East, said: "It is fantastic to have all our hospitals involved and to bring some traditional festive cheer right to the bedsides of so many children.
"Any time of year is difficult for children to be in hospital but it's great that we're able to give them something different, with a 'wow' factor, to enjoy with their families and the hospital staff."