Phone hacking exposer Tom Watson's crusade
Len Tingle
Political editor, Yorkshire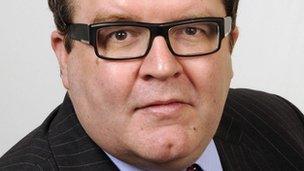 Sheffield-born hacking exposer Tom Watson had a hero's welcome at a public debate on the subject in his native city.
The MP for West Bromwich is on a crusade to ensure the recommendations of the Leveson Inquiry are not ignored by the government.
That comes as no surprise.
He was a leading member of the Culture and Media Select Committee whose investigation ultimately led to the setting up of the Leveson Inquiry in the first place.
As a result he says every other MP on the committee became the target of a no-holds-barred campaign to discredit their personal reputations by the News of the World.
"As soon as we started asking questions about hacking the word went out to get anything on us. Were we gay, having affairs or alcoholics?" he told the meeting in Sheffield last week.
"We were all followed; our dustbins rummaged and detailed intrusive checks made on our personal backgrounds.
"How can elected members of parliament be treated like this simply because we were carrying out our democratic duties?"
He agrees that a reformed Press Standards Commission should have statutory powers to curb the excesses of the press.
"It was the collective failure of public institutions that allowed journalists to believe they could get away with hacking the mobile phone messages of a missing 13-year-old child," he said.
His audience were in no mood to disagree. They came forward with a stream of their own ideas that went way beyond the Leveson recommendations.
They suggested the licensing of newspapers; journalists forced into compulsory membership of a professional standards body and legally enforceable sanctions against anyone straying from acceptable standards of taste, decency and truth.
It was at this point, as a professional journalist for more than three decades, I floated my own contributions to the debate.
They sank without a trace.
I pointed out that, after being exasperated by what it called the "frequent abuses" of the press, Parliament had introduced licensing in the past.
That was in 1662 when it passed the Licensing of the Press Act. A century later it was repealed and has never been repeated. Britain has rightly been proud of its open and free press ever since.
The list of countries with a history of licensing and regulating newspapers in the past makes uncomfortable reading: Stalin's Russia; Franco's Spain and apartheid South Africa to name but three.
Matt Flinders, the Professor of Governance at Sheffield University, abandoned his normal conviviality to put me in my place.
"The very idea that statutory regulation will lead to Britain being transformed into the equivalent of Mugabe's Zimbabwe is laughable," he said.
His deep concern is that the constant scathing criticism by the press of anybody in the public eye is dangerously suppressing democracy.
"Only people with skins as thick as a rhinoceros will stand for public office," he said.
"That is not what I consider to be good for a healthy democracy. We need a wide range of people from all sorts of backgrounds as MPs and councillors. The press are blocking that from happening.
"We already have regulation of the broadcasters and nobody sees that as a problem."
Tom Watson, who stood up to the ferocious campaign to discredit him before the truth over hacking came out was clearly the night's hero. Who was the zero? Remember there was only one in the room with a press card.