M6 crash: Man dies in nine-vehicle collision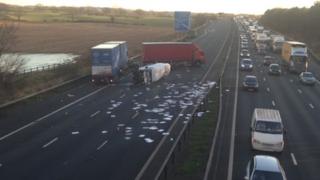 A man has died and two people suffered life-threatening injuries in a nine-vehicle crash on the M6.
The collision, involving two lorries, two vans and five cars, happened on the southbound carriageway near junction 16 for Stoke-on-Trent at about 11:20 GMT.
An ambulance spokesperson said the two people with serious injuries were in the same vehicle as the man who died.
The motorway was closed southbound between junctions 18 and 16 but later reopened.
However, the Highways Agency said by 21:00 there were still long delays between junction 19 (A556, Knutsford) and junction 18 (A54, Middlewich).
The agency and Cheshire Police urged motorists to take alternative routes.
The incident affected surrounding roads, in particular the A54 and the A50.
Two airlifted
Det Ch Insp Brian Roberts said: "We are working closely alongside the Highways Agency and are doing all we can to clear the backlog of traffic and to minimise the disruption that has been caused to the motorway network - and adjoining roads."
The two people with life-threatening injuries were airlifted to hospital.
Seven people with minor injuries and another with serious injuries were also taken to hospital, police said.
Cheshire Fire and Rescue Service said it sent seven appliances to the scene of the crash and released five casualties who were trapped in their vehicles.
"The officer at the scene summarised that a total of 15 persons and nine vehicles were involved in the collision," a spokesman said.
"Five persons were released from vehicles by the Fire and Rescue Service and all casualties were transported to hospitals at Leighton, Crewe and Stoke by the ambulance service.
"Sadly, one person was confirmed dead at the scene."
The Highways Agency said nine vehicles at the accident scene required careful recovery.