Hen harrier Bowland Betty killing prompts reward offer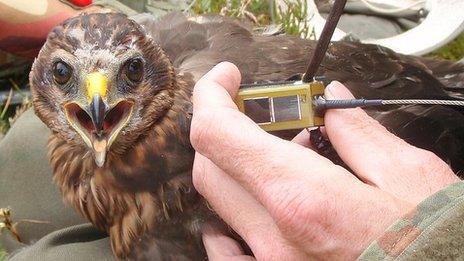 A rare bird of prey which was part of a major conservation project has been illegally shot and killed in North Yorkshire, police have confirmed.
The hen harrier, known as Bowland Betty, was found dead near Colsterdale on 5 July but scientists have only now determined its cause of death.
The bird was one of about 10 breeding pairs of hen harriers in England.
A £1,000 reward has been offered for information leading to the conviction of those responsible for its death.
The female hen harrier was raised in Bowland, Lancashire, in 2011 and was fitted with a satellite tag as part of Natural England's Hen Harrier Recovery Project.
Hen harriers have been tagged by the conservation organisation since 2002 in an effort to learn more about their movements across the country.
The tag tracking Betty's movements showed she had travelled as far north as Caithness in northern Scotland over the past year.
She was found dead on Thorny Grain Moor in the Yorkshire Dales after satellite data showed she had not moved for some time.
Post-mortem examinations carried out by scientists from the Zoological Society of London and University College London revealed she had died from a fractured leg containing a tiny fragment of lead shot.
PC Gareth Jones, Harrogate and district wildlife crime officer, said the bird's death was a "significant blow" to the future of the species.
"The shooting of this rare and majestic bird is against the law and it beggars belief that in 2012 a bird of this status has been shot and killed," he said.
Maddy Jago, from Natural England, said the shooting was "a tragic and disturbing setback for England's fragile hen harrier population".
Related Internet Links
The BBC is not responsible for the content of external sites.