Footballer's surgery after scan prompted by Muamba cardiac arrest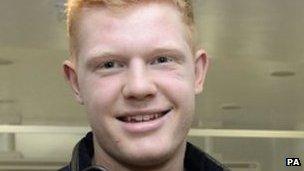 A teenage footballer has undergone heart surgery as a result of a scan prompted by Fabrice Muamba suffering a cardiac arrest on the pitch.
Former Bolton Wanderers midfielder Muamba suffered a cardiac arrest during an FA Cup match against Tottenham Hotspur in March.
Burnley defender Jack Errington, 17, was found to have an enlarged aorta during the routine scan.
He said he was "dead shocked" when he was told.
"At first they said it wasn't too bad but something could happen in 20 years and since I was a footballer I had to get it done as soon as," he said.
While recovering in hospital, Errington met former England captain Alan Shearer, who was visiting the Freeman Hospital in Newcastle after being made patron of the specialist Children's Heart Unit.
Shearer said: "He actually said to me when they gave him his results he thought they were joking.
"Now he's had the operation, he's back on the mend and hopefully he'll be back playing professional football in a few months' time.
"It shows that a little good has come out of Muamba's situation, which was unfortunate for Fabrice but in a way he's helped someone else."
Related Internet Links
The BBC is not responsible for the content of external sites.