David Cameron pledges speed up for A14 upgrade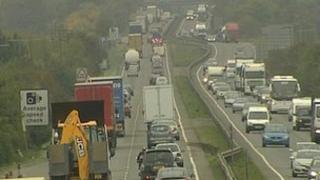 The prime minister has pledged to help speed up upgrades to the A14, which are "not happening quickly enough".
David Cameron told the BBC he understood people's "frustrations" about the road, which links the East coast to the M1 and M6.
He said money had been set aside to improve the road and was "committed to sorting our infrastructure needs".
However, John Bridge at Cambridgeshire Chambers of Commerce said his "words need to be backed up with substance".
Plans to construct a tolled bypass between Cambridge and Huntingdon and widen other parts of the A14 were unveiled by the government earlier this year.
The bypass, which is unlikely to start being built before 2018, is expected to cost £1.5bn, the Department for Transport said, with another £8m being allocated to widen the road between Histon and Girton.
'No certainty'
Mr Cameron said: "I have travelled on the A14 many times in my life. I know how frustrated people are about this issue.
"We have got money set aside to deal with the A14 - the frustration is it's not happening quickly enough and we're going to do everything we can to try and speed these things up.
"We are in this global race against other countries - we've got to have first-class infrastructure."
Mr Bridge, chief executive at Cambridgeshire Chambers of Commerce, said: "The key factor is there is no certainty. No-one is committing to getting the job done.
"It is always said the A14 is a number one priority, but it is the last road that gets any commitment or funding."
Mr Bridge said the chambers of commerce were "disappointed" that further details about any upgrades to the road were not mentioned in the chancellor's Autumn Statement.
He added: "His [the prime minister's] words need to be backed up with substance."