Channings Wood Prison noise row led to attack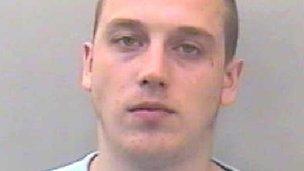 A prisoner has had his sentence extended after "dislodging" another inmate's brain by hitting him.
Daniel Sanders, 25, of Melbourne Road, Liskeard, hit Peter McDonald with a broom in an argument about noise at Channings Wood Prison, Newton Abbot.
Exeter Crown Court heard Sanders locked himself in Mr McDonald's cell before hitting the man and causing his brain to move by 1cm (0.3ins).
Sanders admitted grievous bodily harm and was jailed for 32 months.
The court heard that Sanders, who was serving an 18-month prison sentence for burglary, had gone to Mr McDonald's cell to complain about noise.
Once there he locked himself in and used a broom to hit Mr McDonald causing him to fracture his skull and suffer a fit.
The court heard that Mr McDonald was put into an induced coma at Derriford Hospital and remained in intensive care for three weeks as a result of the incident.
Recorder Paul Derbyshire said: "You picked up a broom and hit him with such force it not only fractured his skull but dislodged the brain.
"It was such a severe depressed fracture that it shifted the brain by a centimetre for a while. It is extraordinary he recovered from such a serious injury."
Mary McCarthy, defending, said Sanders kept a diary about how he was becoming agitated by noise from inmates in nearby cells.
She said he had not intended to cause such serious injury and picked up the broom to hit Mr McDonald's legs, but missed and hit his head by accident.
Related Internet Links
The BBC is not responsible for the content of external sites.