Red Arrows: Managing the risks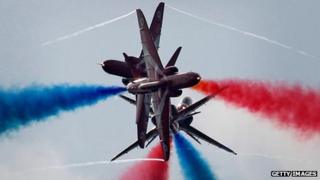 For the Red Arrows and their thousands of fans, 2011 was a dark year.
The deaths of Flt Lt Jon Egging and Flt Lt Sean Cunningham, in two separate incidents, sent shockwaves through the display team and led to one of its newest members moving to a ground-based role.
Before 2011 the Red Arrows had lost six team members - four of which had been in a single incident.
But in their 48-year history, the team has safely performed more than 4,200 displays around the world and completed many thousands of hours of training.
An inquest into the death of Flt Lt Jon Egging recorded a verdict of accidental death.
An inquiry is ongoing into how Flt Lt Sean Cunningham was ejected from his Hawk while on the ground at RAF Scampton.
'Minimise risk'
Former RAF pilot and air safety expert David Learmount said: "Considering how high risk it is, one event every several years is not bad. That doesn't mean to say it cannot be better.
"Random events can come along like buses and there's not necessarily a reason why you get a pair of events close together like that."
RAF spokesman Wing Commander Martin Tinworth said Red Arrows pilots performed manoeuvres at speeds of about 300 to 400 knots (345 to 460mph), sometimes just a couple of metres apart.
Mr Learmount said the perceived danger of the displays was partly what made them so popular but rigorous measures were in place to minimise the risk.
The Red Arrows website says displays are never held directly over crowds and pilots wear 'anti-g' suits to stop their blood pulling away from their brain as they experience up to seven times the force of gravity.
Mr Learmount said: "Every piece of choreography has to be risk assessed. Even when the display has ended and they are re-forming to go back to base - even that is choreographed.
"There's not much technology involved - it's all hand and eye. The Hawk is quite a low-tech aeroplane."
Worst tragedy
He added that pilots were highly experienced in dealing with all kinds of emergencies, such as malfunctions.
He said: "I have taught pilots formation flying and for a pilot this is bread and butter stuff - especially someone who is specialised enough to be chosen for the Red Arrows.
"The Red Arrows, including their admin and back-up teams, are tremendously motivated. It's like a Formula 1 pit team - all of them are specialists in their field."
Although fatalities are rare, the display team has lost eight of its pilots.
In 1969 Flt Lt Jerry Bowler was killed when his Gnat hit trees at RAF Kemble in Gloucestershire.
The Red Arrows endured its worst tragedy in 1971 when Flt Lt Euan Perreaux, Flt Lt John Lewis, Flt Lt John Haddock and Flt Lt Colin Armstrong were killed when two Gnats collided mid-air at RAF Kemble.
Flt Lt Neil MacLachlan was killed during practice at the team's base at RAF Scampton in 1988.
Flt Lt Jon Egging was killed in August 2011.
At the end of each summer display season, three of the nine Red Arrows pilots are replaced and the new recruits spend the winter training with the team for the following year.
After the death Flt Lt Sean Cunningham at the start of winter training, the Reds' first female pilot, Flt Lt Kirsty Stewart, who was one of three new recruits for the 2012 season, moved to a ground based role after being affected by the tragedy.
Squadron Leader Jim Turner announced the Reds would perform the remainder of 2012 displays with seven instead of their trademark nine jets.
With the Hawk aircraft due to go out of service at the end of the decade, questions remain about the future of the Red Arrows as a replacement for the training aircraft has yet to be announced.
There are also government plans to relocate the aerobatic team from its current base at RAF Scampton to RAF Waddington, also in Lincolnshire, although the Reds would continue to use the airspace over RAF Scampton to train.