Cotswold Airport fire chief death ruled accidental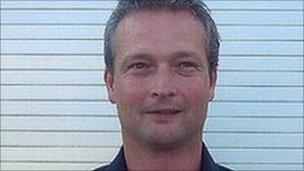 The death of Cotswold Airport's fire services manager in an industrial incident was accidental, an inquest has found.
Steven Mills, 45, from Malmesbury in Wiltshire, died on 8 April last year after suffering a traumatic head injury at Kemble Airfield.
He was hit by a decompressed gas cylinder as it discharged its contents.
A safety pin which should have been attached to a valve on the cylinder was found in Mr Mills' hand.
Mr Mills was also a retained fireman with Wiltshire Fire and Rescue Service and had asked some of his colleagues there to assist with the disposal of the cylinders which were part of a fire suppression system attached to temporary office buildings, the inquest heard.
Giving evidence, colleagues said a proper risk assessment had not been carried out and labels on the cylinders advising specialist removal were not adhered to.
A jury at Gloucester Coroner's Court returned a verdict of accidental death.
Assistant deputy coroner Tom Osborne said he was not going to order a change in training as there were senior Wiltshire fire officers present at the inquest and he hoped they would implement the appropriate training.
Related Internet Links
The BBC is not responsible for the content of external sites.