New Archbishop of Canterbury Justin Welby will miss North East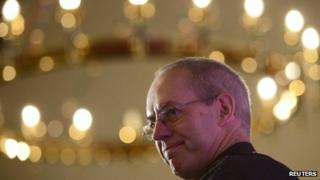 The incoming leader of the Church of England says he will miss the North East "enormously".
Justin Welby, the Bishop of Durham, is set to become the Archbishop of Canterbury early next year and admits he will be "hugely disappointed" to leave the region behind.
Bishop Welby only joined the Diocese of Durham in November 2011 but has been struck by the warmth of the people.
He said there was a "real sense of sadness" about moving.
Bishop Welby has praised the efforts of everyone he has worked with since coming to the north-east.
"Together as the Diocese of Durham we've managed to find a new direction," he said.
"We've taken some brave steps on finance, we've confirmed existing directions of travel and given them real content and solidity."
Ex-oil executive
The Bishop highlighted the issue of Auckland Castle - its future now secure after it was bought and passed to a charitable trust - as evidence of difficult situations that had been "happily resolved".
He said his experiences at Durham would help him when he becomes the leader of the Anglican Church.
Bishop Welby, a former oil executive who became a priest in his mid-30s, has been touched by the character of the north of England.
He said: "I think you would be a fool to come here and set yourself up as better than anybody else because they will let you know they don't like that very much, and rightly so.
"I was so excited to come here and imagined I would be here until I retired. I was taking a long-term view.
"There is a real sense of sadness about moving and obviously huge excitement because it's such a privilege to do this new role but we will miss the North East and the north of England enormously."
'Enormous challenge'
The Bishop revealed his own doubts about accepting the position of Archbishop in an interview with BBC Tees.
He said: "It's such a huge thing and such an enormous challenge that you're bound to swallow very hard before saying yes but you have to trust that God has been in this and that the church has thought about this and they've probably got better judgement than I have."
Bishop Welby said his time at Durham had helped him rediscover the "seven eighths" of the church that did not warrant much public attention.
"It's reinforced in me that the real frontline of the church is the local church, the parish church," he said.
"As I go around and work with clergy and lay leaders and lay people in churches you see just the incredible things that are going on like the real day-to-day work of people running food distribution centres and going into schools."
The bishop has already found himself under an intense media spotlight since his appointment was announced and he remains conscious he has "a huge amount to learn".
He said: "There is a faint sense of very high expectations and being human, I know that I'm bound not to meet them because I'm a perfectly normal, regular human being.
"There is a real challenge there but you take things as they come."