Thames Valley Police bid to solve eight mystery cases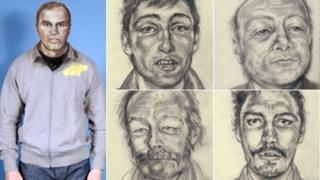 Police hope advances in technology and DNA analysis can help solve cases of several unidentified bodies, dating back to 1970.
Thames Valley Police renewed appeals this week in eight unrelated incidents across Berkshire, Buckinghamshire and Oxfordshire.
Operation Nightingale will be led by the force's Major Crime Review Team with support from UK Missing Persons Bureau and Crimestoppers UK.
Officers hope to make breakthroughs similar to another "cold case" solved earlier this year.
After more than 25 years, the remains of a man found in the River Great Ouse in Buckinghamshire in 1986 were finally confirmed as missing man Michael Walsh.
Case 1: Slough, Berkshire - 3 August 1970
The oldest case involves the discovery of a man, aged between 50 and 60, at the Uxbridge Road railway bridge several hundred yards from the line.
Initially, railway staff had been told an animal had been hit by a train but as they went to investigate, they found a body.
He was believed to have been hit by a diesel train travelling from London Paddington, which was examined by inspectors when it arrived in Bristol.
Described as a white European of medium build with blue eyes and ginger hair, he had greying stubble and a ruddy complexion.
Despite widespread publicity at the time, nobody came forward to identify him.
Case 2: Iver, Buckinghamshire - 30 May 1973
This man died in a collision with a heavy goods vehicle on the B470 Langley Road in Iver close to the junction with Hollow Hill Lane.
On a clear, dry day with good visibility, as the driver approached the junction he described seeing the man standing on the footpath.
Suddenly, he stepped into the road in front of the lorry with his hands in the air.
Despite braking and swerving to avoid him, the collision was unavoidable as the man appeared to follow the lorry. Several witnesses confirmed the driver's account.
Described as an thinly set Arab man, aged between 30 and 45, he had brown eyes, black wavy hair and a moustache.
Case 3: Donnington, Newbury, Berkshire - 4 March 1979
A group of young people spending the weekend at a nearby church hostel in Donninghurst made the grim discovery of a man inside a shed.
His body may have lain undiscovered in the grounds of Red Lodge, Donnington since the previous summer. At the time, he was believed to be a "man of the road".
Approximately 60 years old, the European male was very thinly built with grey eyes, grey receding hair and a moustache. He had no teeth.
He was wearing a grey single breasted jacket, a grey raincoat, a light grey and blue striped shirt and a green checked tie with orange stripes.
Case 4: Runnymede, Surrey - 26 December 1985
On Boxing Day 1985, a man's body was found in the River Thames at Bell Weir at 10:00 GMT.
It was believed the man, aged between 30 and 45 years, had been in the river for several weeks.
Several items were found on him, including three sets of dark blue darts flights marked "William Hill First for Prices", all contained in cellophane bags.
Police said they believe he may have been on his way home from a pub where he was part of a darts team.
The white male had shoulder length black straight hair, but was balding with a receding hair line and a patchy moustache.
Case 5: Sonning, Berkshire - 2 January 1995
Retired Det Ch Insp Andy Steel was involved in trying to identify a man, aged between 25 and 40, found in the River Thames at the weir gates of Sonning Lock at 09:10 GMT.
He said: "In more than 30 years with Thames Valley Police, it was the only case I couldn't solve.
"There was nothing obviously suspicious at the time, but it was clear he had been in the water for some time, possibly as long as 18 months.
"But he was carrying a very distinctive pair of gold rimmed reading glasses. The arms folded into themselves and then on to the lenses, which folded in half and were kept in a black pouch."
The white male was also carrying a blue handled Draper screwdriver and had a distinguishing centimetre wide gap between his two front teeth.
Despite appeals in local newspapers and dental magazines, the man's identity could not be established.
Mr Steel added: "This discovery was pre-DNA analysis, but the body still exists and samples are available, which could help going forward."
Case 6: M40 Junction 7, Oxfordshire - 26 January 2000
A male, aged between 17 and 30, is believed to have either fallen or jumped from a moving lorry as it travelled on the northbound carriageway of the motorway towards Oxford.
He was then struck by at least three vehicles and died from multiple injuries.
An illegal immigrant from Kosovo or Albania, who could have entered the country concealed inside the lorry, was a theory at the time.
He had no identification on him, but inquiries were made at an address in Ilford, East London and at refugee centres after a piece of paper found in his wallet had contact details for both.
A note was also found written in Arabic and interpreters concluded it could be echoes from the Koran.
He had short dark brown hair, brown eyes and was of medium build with a generally unkempt appearance.
He wore a black nylon jacket, dark blue jeans and a heavily studded black belt.
Case 7: Dorney, Buckinghamshire - 1 May 2004
Jubilee River near Eton was where a man aged between 25 and 35 was found floating in the water in the early evening.
Following forensic analysis, no possessions were found on him.
The condition of the body also suggested he had been in the water for some time and he was not readily identifiable.
Inquiries with Interpol, the National Missing Persons Bureau and an appeal on BBC's Crimewatch programme all failed to establish any clear-cut clues.
Posters of a facial reconstruction and replica clothing were also released in both English and Polish for the benefit of a large community in nearby Slough.
Case 8: Beaconsfield, Buckinghamshire - 22 August 2007
The badly decomposed body of a man was found in an unused shed on the country estate of Hedgerley close to junction 2 of the M40.
Forensic analysis concluded he could have been there between seven months and two years.
Aged in his late 20s, very little is known of his identity other than he wore size eight-and-a-half shoes and was approximately 5ft 7in tall.
Clothing recovered from the scene included a black bomber jacket with orange lining, matching blue Nike tracksuit top and trousers and a grey fleece.