Justin Lee Collins Celebrity Big Brother petition launched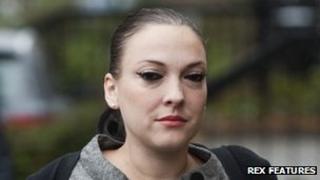 The family of Justin Lee Collins' ex-girlfriend have begun a petition over reports that her abuser could appear on Celebrity Big Brother as a housemate.
TV presenter Collins was convicted in October of harassment causing fear of violence to Anna Larke during a "campaign of abuse".
Miss Larke, 38, said it would "trivialise domestic abuse" to use Collins in the programme in January.
A spokesman for Channel 5 said it never confirmed housemates before broadcast.
The court heard Miss Larke, a PR executive from Hertfordshire, was verbally and physically attacked by the comedian and presenter, who kept a dossier of her past sexual experiences, made her sleep facing him and called her a "whore" and "slag".
Collins, 38, of Kew, south-west London, had denied the charge but was found guilty by a jury and sentenced to 140 hours of unpaid work at St Albans Crown Court.
'Tacky and irreverent'
Speaking to the BBC, Miss Larke said she was shocked that, just two months on, Collins could "make a comeback" on the reality show.
"The whole idea is just tacky and irreverent," she said.
"I don't think he should go on the show and be given the chance to talk about what happened - it's wrong.
"People who have read about his abuse won't believe they are seeing him on TV - but it will get people watching.
"He's got that massive forum in front of millions of people."
She said she decided with her brother, Alex, to start a petition.
Mr Larke, of Welwyn Garden City, said: "She's absolutely in bits. It's as if what happened to her is not being taken seriously.
"I've organised this, with her blessing. People have already said to me that it's just morally wrong."
The petition states: "Justin Lee Collins is a convicted domestic abuser and a bully who put my sister through a sustained campaign of emotional abuse."
It added that it was "disgusting" that Collins would be "rewarded for his abhorrent behaviour" and calls on signatories to "support victims of domestic abuse by showing Channel 5 this will not be tolerated."
A spokesman for Collins' agent said there would be no comment.
'Awful, horrible things'
During the trial, the jury heard Collins shouting a tirade of abuse at Miss Larke, who recorded the outburst on her mobile phone.
The recording, which includes obscene language, has been placed online with the petition.
In court, Bristol-born Collins accused Ms Larke of being a compulsive liar, and said in a statement after the verdict that he would never accept he was an abuser.
Miss Larke added: "What he did to me was despicable, and I don't know how I got the strength to go through the court case.
"Justin issued a statement to say he wasn't an abuser, he hasn't admitted the things he did to me - awful, horrible things.
"This isn't going to help."