Thames crossing 'could be privately funded'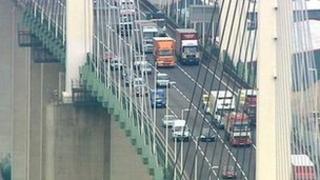 A new Thames crossing could be built without spending public money, Kent County Council (KCC) says.
Paul Carter, KCC leader, said the council had been in discussions with companies in Canada over plans to build the crossing using private funding.
He said many of Canada's road were funded by income from tolls.
In 2011, the government said a new crossing would alleviate congestion at the Dartford Crossing tolls caused by "the success" of the M25.
"They do a 'fund design build and operate' scheme in Canada which has been an enormous success," Mr Carter said.
"Many of the big roads, bridges and highways have been built from toll income and a very developed finance market and a very developed construction industry."
The government is looking at Dartford, the Swanscombe peninsular, and east of Gravesend as three possible sites for a third Thames crossing.
The Department for Transport also plans to remove the existing barriers at the Dartford Crossing by autumn 2014, allowing people to pay by phone, text, online or in shops.
The "free-flow" system is designed to speed up traffic and ease congestion at the crossing between Kent and Essex.
Mr Carter said:"We have been over to Canada to see how they go about it and see if we can excite them in any way to provide the finance for a third Thames crossing."