Cliff landslip death: Charlotte Blackman '10ft from safety'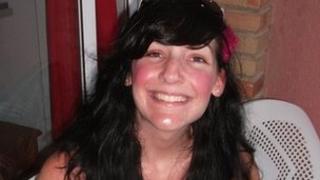 The boyfriend of a woman crushed to death in a beach landslide has said she was only 10ft (3m) away from him when the rocks came down.
Charlotte Blackman, 22, of Heanor, Derbyshire, died when a 160ft (50m) cliff near Burton Bradstock collapsed in July.
Matthew Carnell told a Dorset inquest how it had all "happened so fast, within the blink of an eye".
The coroner recorded an accidental death from an "act of nature."
He said no-one could have predicted what would happen.
An expert told the inquest the base of the cliffs had been eroded by the sea.
'Complete chaos'
Ms Blackman was on holiday with Mr Carnell and her family at the nearby Freshwater Holiday Park.
Mr Carnell told the inquest: "It was complete chaos. I was in a panic and all I could think about was to get Charlotte out of there.
"I didn't want to stop until I found her."
Other people on the beach called the emergency services while Mr Carnell and Miss Blackman's father Kevin Blackman tried to find her under the rocks, the inquest heard.
Some witnesses reported other landslides along the beach before the one which killed Miss Blackman.
However, Mr Blackman said if there had been any evidence of recent landslides he would not have walked along the beach with the children.
The group, which also included Miss Blackman's 12-year-old brother Mitchell and his friend, were walking back to the caravan park after a day at the beach.
Onlooker David Warren told the inquest he had shouted at the group to avoid the cliff face because he had seen other landslides on the beach that day.
But Miss Blackman's family said they must have been too far away to hear the warning.
The death came a fortnight after Somerset couple were killed in a landslide at the Beaminster Tunnel, nine miles from Freshwater, following days of extremely heavy rainfall.
Richard Edmonds, earth sciences manager at Dorset County Council, said the weather had little impact on the cliff fall which killed Miss Blackman.
He told the inquest the sea had cut away the base of the cliffs years earlier.
Coroner Sheriff Payne said the National Trust, which owns a stretch of the beach where the accident happened, appeared to be doing all it could to warn visitors of the dangers.