London Tube strike on Boxing Day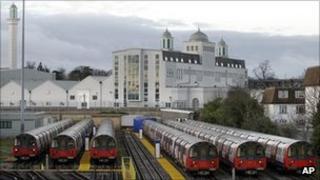 London Underground drivers are to strike on Boxing Day and 18 and 25 January in a row over bank holiday pay, the Aslef union has said.
A stoppage is likely to affect Tube services across the capital, causing disruption for shoppers and tourists.
An Aslef spokesman said: "The ballot result shows the strength of feeling that remains on this issue."
London Underground condemned Aslef's leadership's demands after talks failed on Monday.
It will be the third successive Boxing Day walkout by Tube drivers, in a dispute which dates back to an agreement in 1992.
Free parking
The move was announced after Aslef members voted by 9-1 in favour of strikes in a long-running row over extra pay for working on bank holidays.
On Monday night, a London Underground (LU) spokesman said: "Despite the efforts of LU to resolve the dispute, the Aslef leadership have demanded an additional £250 for their drivers to work on Boxing Day, on top of their salaries that already include working on Boxing Day.
"In return they only offered to return to talks in January.
"Today LU sought to resolve the dispute by offering a trial period of voluntary overtime and rest day working that could have allowed a payment to be made to those train operators that worked Boxing Day.
"All suggestions were rejected by the Aslef leadership."
Howard Collins, LU's chief operating officer, added that train drivers were paid a salary that reflected some bank holiday working, and that fewer drivers were rostered to work on Boxing Day.
West London football club Queens Park Rangers (QPR) confirmed its Boxing Day match against West Brom would go ahead, despite the strike.
A statement on QPR's official website said: "The Boxing Day fixture against West Bromwich Albion will go ahead as scheduled, despite Tube services across the capital being affected by a drivers strike."
Westminster City Council said parking in the borough would be free on Boxing Day.
Conservative Councillor Daniel Astaire said: "We want to ensure that shoppers know they can still come into London to snap up those apres-Christmas bargains as well."