East Anglia One wind farm plan for Suffolk coast submitted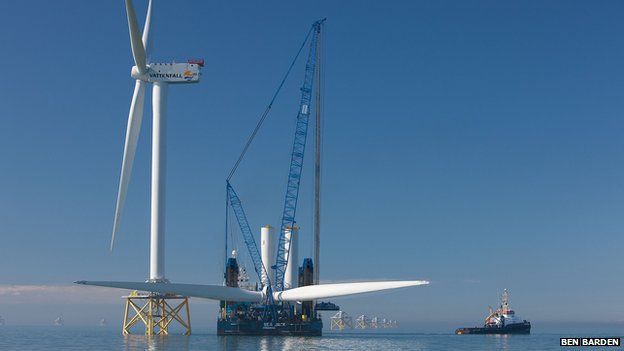 A plan for a 325-turbine wind farm off the Suffolk coast has been formally submitted to the government.
The East Anglia One wind farm would be 27 miles (43km) from shore and it would cover 115 sq miles (300 sq km).
East Anglia Offshore Wind (EAOW) has submitted the planning application to HM Planning Inspectorate after consulting with local councils.
The company said the multi-billion pound project would provide electricity for 770,000 homes.
East Anglian Offshore Wind is a joint venture between Scottish Power Renewables and Vattenfall and the company said the application followed three years of planning since it won a Crown Estates bidding process.
Jason Martin, project director for EAOW, said: "We're very confident that the project has a minimal environmental impact and is right and appropriate for the area."
EAOW said the project would provide 2,700 jobs across the UK during construction and 170 engineering and technical jobs when it was up and running.
Four seabed cables of 45 miles (73km) in length would carry power to the shore then four 23-mile (37km) underground cables would run from Bawdsey to the Bramford sub-station near Ipswich.
HM Planning Inspectorate is the body which is considering the planning application.
EAOW said it hoped construction could begin in 2016 with the first power generated in 2018.
East Anglia One is the first of six potential projects for the East Anglia Zone in the North Sea which was designated by the government for renewable energy.
Related Internet Links
The BBC is not responsible for the content of external sites.