Cracks in East Coast Main Line investigated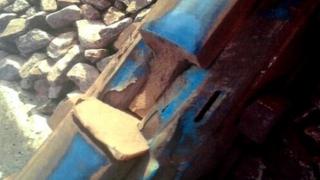 Two cracks discovered on the East Coast Main Line are being investigated by independent safety experts at the Rail Accident Investigation Branch (RAIB).
A 10cm (4in) gap at Colton Junction, near York, was found by a train driver in November and a fractured rail in Lincolnshire is also being assessed.
An engineer from the RAIB has already made initial inspections at the sites.
The RMT union said cracks could have caused a "tragedy" but Network Rail had said no passengers were at risk.
In a statement, the RAIB said the incidents involved sections of track where speeds of trains exceeded 100mph (160 km/h).
The RAIB is an independent organisation which examines accidents and incidents on the UK's railways.
Its focus is on improving safety and does not enforce law or carry out prosecutions.
The photograph of the track in North Yorkshire which was released by the RMT earlier this month condemned the quality of the track. General Secretary Bob Crow said the damage was "shocking" and highlighted cuts to the service.
The rail break near Corby Glen in Lincolnshire was reported in September by a member of the public when they became concerned when "unusual levels of noise" were heard when trains passed a stretch of line in the area.
A spokesman for Network Rail said it would not comment while an investigation was ongoing and would co-operate with any inquiries.
The findings from the investigation are expected to be presented in a report next year.