Devon and Cornwall police take no action on social media cases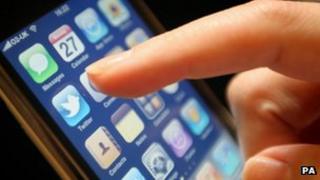 A police force has taken no action against officers over six cases of "potentially inappropriate behaviour" on Facebook or Twitter.
Her Majesty's Inspectorate of Constabulary (HMIC) found the cases in a review of social media and referred them to Devon and Cornwall Police.
The force said they were "minor" and did not merit disciplinary action.
It follows the unconnected case of a PCSO who posted messages about student "mayhem" in Exeter.
'Expected behaviour'
University students complained about the comments by PCSO Sarah Giles and she later discussed the "pit falls" of social media with her supervisor.
The HMIC said in its report: "The force has reviewed its policy and associated guidance on how police officers and staff should behave on social networking sites (such as Twitter and Facebook).
"This covers use at work, and is being updated to include expected behaviour when staff are off duty."
More than 40 of the force's 3,200 officers use Twitter and there are 25 Facebook pages for the force's stations.
Assistant Chief Constable Chris Boarland, who tweets as @Chris_Boarland, declined to go into any detail about the cases found by the HMIC.
"The HMIC asked us to look at six cases," he said.
"We considered them minor and it is closed."
He continued: "We have a huge number of staff and officers who use social media to great effect.
"It's a fantastic way to humanise us as a police service and get information to the public.
"Social media is developing in the service and in Devon and Cornwall we have clear guidance and we monitor it carefully to make sure it is used appropriately."
He said the guidance included remaining impartial, no politics and no inappropriate language.
"If it's not the sort of thing you would say in a conversation, it is not something you should put on Twitter or Facebook," he added.