Neon Roberts mother loses radiotherapy court battle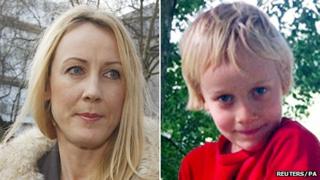 A seven-year-old boy can be given radiotherapy treatment against his mother's wishes, a judge has ruled.
Neon Roberts has undergone two operations to remove a cancerous brain tumour and nodule but his mother Sally did not want him to have radiotherapy.
Doctors have told the High Court Neon could die without further treatment, but the survival rate for children with radiotherapy was between 80 and 86%.
Mrs Roberts' legal team has said she plans to appeal against the judgement.
Summing up, Mr Justice Bodey said: "One can't enjoy a quality of life if one isn't alive.
"The mother has been through a terrible time. This sort of thing is every parent's nightmare.
"But I am worried that her judgement has gone awry on the question of the seriousness of the threat which Neon faces.
"The alternative treatments put forward were complementary and alternative medicine. Nothing put forward has undergone rigorous clinical trials.
"I find it difficult to see that doctors would withhold alternative treatment that would improve survival."
'Out of date'
Neon's father Ben Roberts had agreed to the boy having radiotherapy.
His solicitor Gwen Williams said: "Mr Roberts is relieved that the judge has been able to make a final ruling on Neon's treatment.
"He now hopes that Neon can be allowed to recover from his latest operation and start the radiotherapy and chemotherapy that the doctors have outlined without any further delay."
The hospital and health trust involved in the case cannot be identified for legal reasons.
The Family Division of the High Court had been told by a Dr A: "We have always said there are side effects and I do understand the family's anxiety, but it does not reflect the risk-benefit balance."
Mrs Roberts told the court she believed conventional cancer treatment was "out of date". She said she feared radiotherapy would reduce Neon's IQ, shorten his life, put him at risk of having strokes and make him infertile.
But the counsel appointed for Neon argued "standard treatment" is the only option that could save his life.
The court heard the survival rate for children having chemotherapy only was about 35% whereas with radiotherapy it was between 80 and 86%.
The court was also told Neon's father needed the security of a residence order to allow the boy to live with his father during the treatment.
Neon had surgery in October after being diagnosed with a medulloblastoma brain tumour, but the judge ruled he should have further surgery after MRI scans showed a tumour nodule where the original operation was performed.
Mrs Roberts asked the court to delay its decision, claiming other "credible" alternative treatment was available.
She asked the court for more time to research any alternatives.
Ian Peddie QC, for Ms Roberts, told the judge : "Her stance merely reflects the love that she has for him.
"The mother, having considered the pros and cons of radiotherapy, does not believe it is in his best interests because of the significant and long-term consequences of this dramatic, powerful brain-altering treatment."
Mr Justice Bodey asked Ms Roberts whether "some sort of tie-up" with the media was influencing her thinking.
She said: "My son is the only important thing to me."
Earlier this month New Zealand-born Mrs Roberts went into hiding with her son.
Mr Justice Bodey said it would be remiss of the court not to prevent that recurring.