River Thames flood water levels 'stabilise'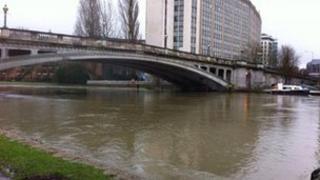 Water levels along the River Thames have "levelled off" but still remain very high, the Environment Agency (EA) has said.
Several flood warnings are in place on the river for parts of south Oxfordshire, Berkshire and Surrey.
A small number of homes have flooded across the region while firefighters were called after children were playing in flood water in Oxford.
The EA said levels had peaked earlier but more rain was forecast.
A spokesman said it was important to stress water levels would remain high for several days to come and people should stay vigilant.
On Friday, the Thames Valley Police helicopter was scrambled when children were reported to be in need of rescuing in flood water at Iffley Lock, Oxford.
Tropical fronts
The group of five children, all aged under 12, were told to leave the water and warned by the fire service that flood water can hide dangerous hazards.
Emergency flood barriers were installed on Osney Island, Oxford on Thursday while the Loddon Bridge Park and Ride site in Wokingham is closed.
Flood risk manager from the EA Dave Beddlington said: "Our main area of concern currently is Caversham and Reading. Residents in low lying areas or with property near the river should be particularly vigilant.
"Our advice is simple. Keep up to date with all the latest information, stay out of flood water as it can be extremely fast flowing and dangerous and have a plan.
"Think about what possessions are really important and need to be kept out of harm's way."
Dr Liz Bentley, from the Royal Meteorological Society in Reading, explained how warmer weather fronts approaching from the Atlantic have had an effect.
She said: "Over the last few weeks, weather systems from the South West have been slightly tropical in nature.
"It means when the air is warmer, it holds a lot more moisture.
"That's why we're seeing two inches of rain falling in the space of 24 hours quite frequently.
"On the back of already saturated ground that can lead to widespread flooding."