Hastings United fans enjoy Middlesbrough FA Cup day out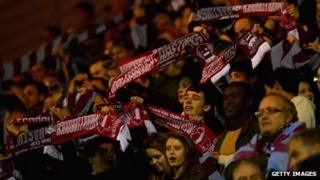 Anyone who regularly uses trains and motorways at the weekend will be used to the sight of groups of football fans in their team's colours travelling to watch them play.
But it is not often the army of supporters are off to see Hastings United.
Yet the fans clad in claret and blue at London's King's Cross station at 08:00 GMT on Saturday were not supporters of West Ham or Aston Villa, who most famously wear those colours, but were instead already a couple of hours into their journey to watch Hastings' FA Cup tie at Middlesbrough.
Many other fans set off in eight coaches that left the club's Pilot Field stadium at 06:00 GMT, ready for the 618-mile round trip to the North East and back.
Hastings were by far the lowest-ranked team to make the third round of this year's cup. They play in the Isthmian League Premier, the seventh tier of English football.
If Middlesbrough is a long way geographically from Hastings, the towns are also a vast distance apart in footballing terms.
The last time a team from Hastings reached this round of the FA Cup was in 1955, when they lost 2-1 to Sheffield Wednesday, a year after taking Norwich to a replay at the same stage.
In contrast, Middlesbrough won the League Cup nine years ago and in 2006 were finalists in the Uefa Cup where they lost to Sevilla. The success saw their manager Steve McClaren leave to become England boss.
'Given town atmosphere'
Hastings usually get crowds of about 400 for their home games and the number who travel to away games is usually only in the dozens.
But 1,068 made the trip to the Riverside Stadium. And, while the sheer distance may have put off others, it was part of the novelty of the day out for the fans who did go.
Speaking before the game Dave Bennett, who travelled on one of the coaches, said: "You will find the Hastings supporters will give a good account of themselves today.
"I was only seven years old when Hastings lost in the third round of the FA Cup to Sheffield Wednesday.
"This year's cup run has given the whole town an atmosphere."
In a pub before the game, fans of Hastings and Middlesbrough mingled, with one eye on the televisions showing Brighton knocking out Newcastle.
The match-clinching second goal was cheered by both sets of fans, those from Hastings pleased for their Sussex neighbours and the Boro fans revelling in the failure of nearby Newcastle.
'Luck on our side?'
The good atmosphere continued as the fans trooped to the Riverside Stadium.
Locals showed the visitors the way, insisting their own glory years of cup finals and Brazilian stars were in the past, while the Hastings fans took any suggestion they might stand a chance with a happy pinch of salt and then pinched themselves at the idea their own club were playing in a ground which has hosted European nights and an England game.
As the game kicked off the Hastings end was awash with cameras as fans sought souvenir evidence they were there and it was all really happening.
An early, harsh-looking, penalty for the home side threatened to get Hastings off to the worst of starts but the cheers which greeted Liam O'Brien's save were deafening. Boro soon scored but it was still only 1-0 at half-time and Hastings had started to apply some pressure.
Hastings fan Gary Sims said: "So far it's gone quite well. I don't think that was a penalty and when he saved it I thought 'maybe the luck is on our side'.
"One-nil at half-time is a good result for us up here. It's been a good day and everyone's been quite friendly, the locals were chatting away outside and taking photos for us."
However, hopes of an upset were dashed when Middlesbrough scored a second just a minute into the second half and it was soon 3-0.
'Not overwhelmed'
But the highlight of the day was yet to come for Hastings, as striker Bradley Goldberg hit a fantastic goal at the end of the ground populated by the travelling fans. The players celebrated with the supporters and the roar was as though Hastings had won the cup itself.
The match finished 4-1 but that was no disgrace against a team who play five divisions higher. After all, among the other teams who have been beaten 4-1 at Middlesbrough this century are Manchester United.
After the final whistle the Hastings fans and players stayed to applaud each other.
Barry Mann, who had driven up from Hastings with a friend and their sons, said: "It's been a great day. It's been fantastic to see them play so well and not be overwhelmed."
His seven-year-old son William said the best moment of a long but fun day had been the Hastings goal.
And Mike Demarco, who was wearing a claret and blue woolly Hastings United hat he had bought as an 11-year-old in 1963, said: "I left the town in 1980 and I live in Norwich now. But I'm a Hastings boy and I had to come.
"I've had a fantastic day and I've seen old friends from Hastings Grammar School who I last saw in 1969. Everybody is having an incredible time."