Gary Ablett's niece donates bone marrow to cancer patient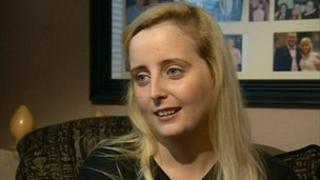 The niece of Liverpool and Everton footballer Gary Ablett hopes she has saved the life of a cancer patient after donating her bone marrow.
Toni Moore, 23, agreed to be a donor after her uncle was diagnosed with non-Hodgkin's lymphoma in 2010.
She and the rest of her family registered after Mr Ablett was told he needed a bone marrow transplant.
The 46-year-old did receive a transplant, but died on New Year's Day in 2012.
Ms Moore, from Everton, was contacted by the Anthony Nolan Trust - a charity which helps find matches for people who need a bone marrow transplant - in 2012 to say she could be a possible match for someone in need.
She gave her donation late last year and it is hoped the patient who received her tissue will make a full recovery.
She said: "It is such an easy thing to do but it is a massive thing to do.
"It has given somebody else the chance of life.
"If I had never have joined that register that lady could still be suffering, but now she has had her donation so many more people need to sign up and it is easy to do."
She added: "We have been on both ends now and we know how important it is that you need that donation."
Mr Ablett, a father-of-five, played more than 420 games for both Merseyside clubs and Birmingham City.
In the 1990s he became the only player to win the FA Cup with both Merseyside clubs.
He later went on to manage Stockport County.