Yorkshire Ambulance Service proposes workforce changes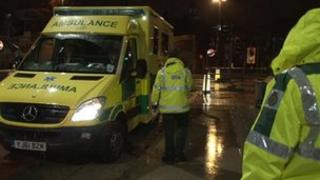 Emergency care assistants are to be introduced under planned changes to the Yorkshire Ambulance Service's workforce.
The assistants would provide clinical support to paramedics and carry out driving duties in emergency responses.
Trade union Unison said it was concerned about the proposals and wanted further talks.
The ambulance service said it would await a formal response from the unions before implementing the plan.
The Yorkshire Ambulance Service NHS Trust added there would be no compulsory redundancies and staff levels would not be reduced.
'Downgrading staff'
It has also said there will be no change to pay levels over the next five years - during which time the proposed changes would be implemented.
Ray Gray, regional representative for Unison, said the union believes the plan means current ambulance workers, known as technicians, would be replaced by emergency care assistants.
"There's a lot of good in this and it does a lot to protect paramedics," he said.
"But we have a lot of concerns as well. It will effectively be downgrading staff."
Paul Mudd, locality director for A&E operations at the Yorkshire Ambulance Service, said: "Most trusts across England have these roles [emergency care assistants] and it is tried and accepted practice.
"As part of this package we are also guaranteeing we will have a paramedic on every vehicle. We are doing this by training up our emergency medical technicians to become qualified paramedics."
Mr Mudd said the five-year plan had been developed following extensive consultation and negotiations.