NFL star Matt Kalil pays tribute to Jay and Rik Dhesi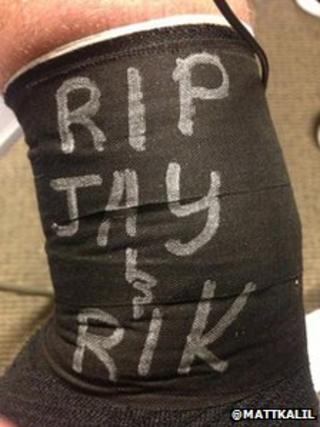 An NFL American footballer has paid tribute to two brothers who died in a crash in Northamptonshire.
Balrik Singh Dhesi, 30, and Jatinder Singh Dhesi, 23, both of Whitworth Way, Irthlingborough, were killed in the crash on the A6 on 31 December.
Matt Kalil of the Minnesota Vikings wore a wristband with "RIP Jay and Rik" written on it during Saturday's match at Green Bay Packers.
Kalil said he wanted to "show them respect".
He said he had been told of the deaths of the brothers, said to be fans of the Vikings, via Twitter.
Trophy renamed
"It is a terrible tragedy and my thoughts go out to their families," he said.
"The least I could do was put their names on my wrist to show them respect."
Kalil's side lost the playoff match 24-10.
"I wish we could have got the win for them but I was honoured to wear their names during the game," he said.
Jay Dhesi played American football for the Peterborough Saxons and coached Northampton University's side, Northampton Nemesis.
The university's players' player of the year trophy is to be renamed the Jay Dhesi Trophy as a tribute.