Tour de France: Cyclist Neil Sutcliffe recalls challenge of L'Étape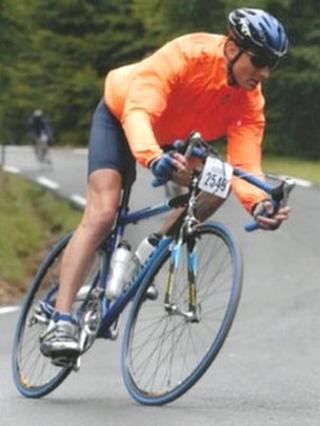 As the route is announced for the Yorkshire section of next year's Tour de France, a keen amateur cyclist from the county gives a first-hand account of what it is like to take on cycling's greatest challenge.
"On a descent I have shot past a couple of riders lying bloodied in the gutter and the crashes looked really nasty but at almost 50mph I couldn't stop."
Neil Sutcliffe, 49, has twice ridden his bike for a day's cycling along the same route the professionals tackle in the Tour de France.
L'Étape du Tour, as it is called, is a chance for thousands of cyclists to pit themselves for a day against the same lung-busting mountainous terrain of the tour as ridden by champions like Bradley Wiggins.
Of course cyclists like Sutcliffe are not doing it for money - and he has to bear that in mind on the mountain descents.
'Tyres could explode'
"I don't go hell for leather... I want to get down in one piece," he said
"Some tour descents last 30 minutes and you can't go down with the cycle's brakes full on as the wheel rims would heat up and the tyres could explode," Sutcliffe explained.
He rode L'Etape in 2003 and 2004. The second time he cycled from Limoges to St Flour, a distance of 148 miles (237km), the longest stage in that year's tour.
Sutcliffe said: "I got up nice and early at 5am and tried to stuff my face full of food.
"You need thousands of calories because you know it's going to be a tough day."
And the pressure is on because following the riders will be the dreaded "broom wagon" whose job is to sweep up those who cannot keep the pace.
Tactics also play a part in the day's riding.
Filthy looks
Sutcliffe explained: "By riding in a group you can get the benefits of drafting and share the workload. It makes it easier to get through the day."
The pack of riders, known as the peloton, take advantage of aerodynamics. If you can tuck in behind the rider in front you can gain an advantage.
Although Sutcliffe says there is a price to pay: "You've got to do your time at the front. Nobody likes a wheel-sucker."
That is the pack's name for a selfish rider sitting at the back who doesn't do his or her share of the work. Anyone trying to dodge their share will get filthy looks from the rest of the peloton.
If a rider does not eat plenty of food at breakfast and at the food stations along the route they will sometimes "bonk" - a cyclist's way of describing going through a rough patch.
To keep himself going through these periods, Sutcliffe falls back on his own internal sound system.
"It's murder sometimes on the climbs but you've just got to keep going.
'Dead man's click'
"I don't like to stop so you just dig in and I've often got a tune going round in my head, usually by the Jam, and often their song Private Hell."
Sometimes when climbing there is a far less welcome sound as Sutcliffe hears what he describes as the "dead man's click".
It is his name for clicking the gears on his handlebar and realising there are no more gears to help as he is already in the lowest gear possible.
"You've just got to go with what you've got."
There is a real sense of occasion when L'Étape passes by; local villagers come out and encourage the cyclists with cries of "allez, allez!"
The support of thousands of spectators at the finish was almost too much for Sutcliffe.
He recalled: "I managed a sprint finish with the adrenalin flowing.
"It was emotional and I cried after the finish, I can't really explain it," he said.
The experience provided an insight into the tour for Sutcliffe and one fact made a huge impression on him.
"In the tour the pros get back in the saddle the next day and do it all again."