Heavy snow causes disruption across East Midlands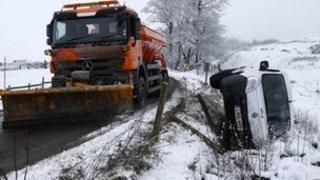 Heavy snow across the East Midlands led to the closure of around 20 schools and caused flight delays and diversions at East Midlands Airport on Monday.
There was expected to be further snow in the region on Tuesday, but it should mostly die away later.
Nottingham and the Pennines had the most snowfall on Monday but Lincolnshire was predicted to have the heaviest showers today.
Motorists have been urged to take extra care on the roads.
Nottingham Police said Ranson Road in St Ann's was closed on Monday night because of sheet ice.
Officers said the road was shut to vehicles and public transport from the junction of Caunton Avenue and Brewsters Roa.
Workers were clearing the runway at East Midlands Airport after heavy snow fell there.
And one woman was rescued by firefighters after her vehicle left the carriageway at Balderton, near Newark, on Monday morning.
Elsewhere, residents in Oakwood, Derby, have been helping to clear the roads and pavements with shovels and bags of grit provided by the city council.