North East drivers warned over snowy weather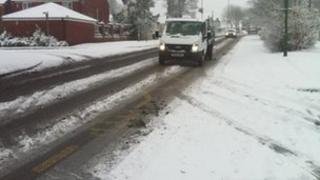 Drivers have been warned to take care in snow and ice on roads across the north east of England.
Although there have been no closures reported on main routes, further snow showers have been forecast and the Met Office has issued a yellow alert.
Northumberland and Durham councils said all their primary and secondary routes had been gritted overnight.
The Highways Agency said it was monitoring the situation and re-treating the network as appropriate
Police have advised motorists to drive appropriately for the conditions and allow extra time for any journeys.
The weather has resulted in race meetings at Newcastle being abandoned.