West Mercia police commissioner defends deputy choice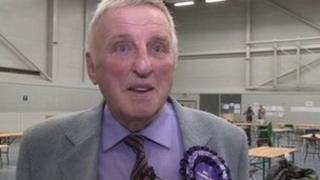 West Mercia's Police and Crime Commissioner (PCC) has defended appointing his former campaign manager as his deputy on a £50,000 a year job.
Bill Longmore faces two votes of no confidence from councils, which urged him to reconsider the decision.
Worcestershire County Council and Bromsgrove District Council said candidates should have had interviews.
Mr Longmore said Barrie Sheldon brought "outstanding qualifications" to the job and shared similar ideals.
Mr Sheldon is an ex-detective inspector and a former senior lecturer in policing, criminal justice and terrorism at Teesside University.
Mr Longmore said he had been surprised by the level of criticism over his decision, but he would not resign.
"It is important you are compatible with your deputy and you have the same ideals, the same vision," he said.
"Yes I can never answer the question there might be someone better out there, but I would have to go a long way to find someone better than Barrie."
Mr Sheldon said 29 PCCs across the country had appointed a deputy without a formal interview and likened it to the prime minister naming his cabinet.
Worcestershire County Council is due to hold a vote on Thursday.
Bromsgrove District Council is expected to hold a vote of no confidence in the PCC next month.